As a webmaster, you need to make sure that you have a clear understanding of what your customers are feeling about your brand and whether you are meeting your customers' deeds and demands. You will need to stay close to your customers by implementing various tools and strategies that will help you feel the pulse of your customers.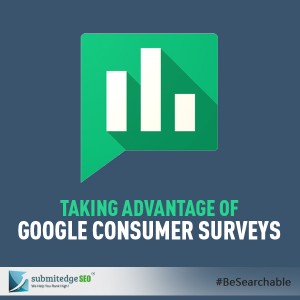 One of the ways of understanding how you are doing and how your products are doing among your customers is to make use of customer surveys. Setting up customer surveys and generating reports out of them used to be a complex and an expensive task. To make the entire process of setting up customer surveys easy and simple, Google has launched a special tool. Google Consumer Surveys is a free tool that you can use to create and manage your surveys totally free of cost.
Google says that it is an easy way to collect feedback from the customers through the use of its tool. Setting up your survey is very simple now and it is just a simple copy and paste task. Webmasters just need to copy a small piece of code in the web page where you want your survey to appear. When you paste the Consumer Satisfaction Survey, Google will automatically load your survey on the lower right side of the page. The best part is that the results are automatically aggregated by Google. The survey results are also automatically analyzed by Google making the entire process just a breeze for the webmasters. Setting up your survey will take just a few minutes.
Many a times, webmasters fail to spend time to get their customers' feedback and as a result, they make marketing plans that do not match the actual scenario on the ground. If you want to make your marketing plans effective, you will need to ensure that you give what your customers are expecting and the only way to know or to understand what your customers are expecting is to ask them.
Investing money on consumer surveys is something good. If you are looking for just simple surveys about the user experience in your website, you might as well settle for Google's free survey tool. If you need something more sophisticated then try to go for the paid version of Google's consumer surveys whereby you are allowed to customize your surveys to suit your specific needs.
If you are living outside the US then you may not have access to Google's consumer survey in which case you need to find other reliable survey management tools to set up your survey and to manage your surveys. All your marketing efforts will go in vain if you do not give your visitors the best online surfing experience. It is very important that you get into the shoes of your customers to feel their pulse because looking at the entire experience through the eyes of a business owner is very different when compared to customers' perspective.