Last month (June 2013) Google had announced a new tool for the webmasters. The new tool will help the webmasters to take an anonymous visitor survey on the visitors' satisfaction. This is a very easy to use tool and to activate this tool for your website you will have to paste a small code in your website. When you integrate this code in your website, a satisfaction survey will be loaded on the lower right hand corner of the website automatically. You do not have to manage the survey; Google will take care of everything including aggregating the user responses and even analyzing the user responses automatically. You will get a beautiful summary of the survey in a Google interface.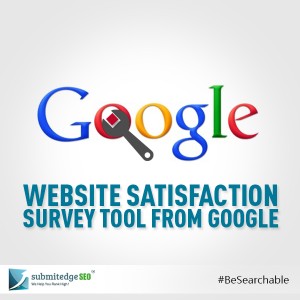 This is a very small and user friendly survey, which consists of just four questions. Users will be able to fill their responses anonymously. Google has designed the website satisfaction survey in such a way that it runs until 500 responses are received. If you continue to have the snippet in your website, the survey will resume after 30 days. As of now, the tool supports US English visitors. This survey will not work for mobile devices. Google has not mentioned about extending its support to other languages or to the mobile devices.
The website satisfaction survey tool is free for use if you are going to use the default questions. If you want to customize your questions at a very nominal price of $0.01 per response and for 500 responses it will cost you $5.00.
Some of the customization features available in Google Consumer Surveys for website satisfaction include website URL, survey frequency and also the survey timing. You will have to place the code generated in your website HTML and activate the survey using the activate survey button. The code has to be placed within the head tag.
This is a very important tool for every webmaster. You should take advantage of this free tool especially when you are fighting stiff competition in your niche. You need to get all the help you can and leave no stone unturned. You will be able to customize your website based on the survey report. To start with, try the free version of the customer satisfaction tool. You will gather a lot of insights on your user preferences which will help you fine tune your website. You can proceed further with the paid, customized questions to further enhance the user experience.
This is a very cost effective way to analyze your website's user experience. As you have this readymade tool that will provide you with the complete analysis of the survey responses, you will also save a lot of time in this process.
Every website that strives hard to achieve the top results in Google should be able to get the best out of this tool. It is often the finer details that make the difference. You should continually fine tune your user experience so that your visitors enjoy coming back to your website.