People say knowledge is power and it truly is. We all have witnessed that situation wherein our lack of knowledge simply places restrictions to understand about what a particular thing is fully capable of. This is where complexity starts pooling in and believe it or not the solution may be right in front of us yet we may squeeze brains for not getting through it. In today's technology-dominated age, the tech-giant Google has offered us with numerous productive tools to get a clear view of the big picture.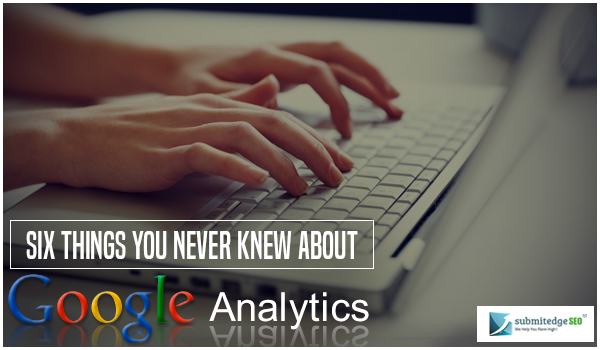 Tool like Google Analytics is used in abundance to determine traffic rate, as it helps accurately pinpoint the progressions. As helpful as it may sound, many people never discover what Google analytics is capable of, apart from outlining the traffic rate. Google Analytics offers a wide variety of features that could be put to best use by numerous marketers to expand their business. On a serious note, this feature is worth thousands of dollars in potential revenue but unfortunately, it is overlooked by many.
Therefore, to bridge the gap, here are few ways you can make use of Google Analytics to bring more awesomeness in work:
In-Page Analytics
Getting caught up in miscalculations pertinent to site insights is extremely common. You may have certain pages, which are maintained effectively but have a hard time pooling in high traffic rate through the right links. If that is what bothers you, then making use of In-page analytics can help you find a quick solution. What In-page analytics does is that, it represents percentages above links that signify the clicks or hits that a particular link has been receiving on that respective page. You can always make use of In-page analytics to spot the odd man out that does not get usually come to notice. Tick a click over the behavior tab and scroll down to the bottom of the menu to find the in-page analytics.
Stay Sharp With Intelligence Events Alerts
After getting familiar with your website function, things start flowing in a predictable manner. However, at times, you get to witness unusual traffic behavior when some of your blog post or updated content goes viral. Would not you love to know the main reason that helped that xyz post to grasp huge attention? Well, putting Intelligence Events Alerts to practice can help you monitor such unexpected outcomes. Using this feature can help you receive automatic emails that notify unanticipated events.
Make Use Of Behavior Flow
Behavior flow can be simply put as the universal eye that monitors the complete behavior of your website. The best thing about the Behavior flow is that it presents information in the form of flow chart. So taking a good look at this flow chart can help you understand how things are up with your website. In the initial phase, understanding the Behavior flow can be slightly complicated. However, once you understand it, you will be amazed to know the amount of information made available via this feature. The Behavior flow is designed in a brilliant manner, wherein it by default represents the data pertinent to pages that most people visit, where do they navigate next, and how they surf the portal till the phase they leave. With such information, it becomes easy for you to know the website and the pages that keep visitors engaged and glued.
Scrutinize Site Speed
The present generation is all about speed. You lack speed and you shall be left far behind the race. The same applies with websites. If your website is not responsive and quick, people will simply open a new tab and skip to the next website. To get an idea about the speed of your website, find the site speed option under the behavior tab and voila! You have it all. The Site Speed menu offers accurate insights on the fastest as well as the slowest loading pages backed up with data pertinent to the time taken for loading. And the best part about this feature is that Google Analytics offers a sub-menu that goes under the name tag Speed Suggestions. Clicking on this option helps users to obtain free proven solutions to overcome lagging and low speed.
Spot Your Flaws In An Instant
Many people usually fail to maintain a SEO-friendly site, because they are too focused on spotting their positives. People try recognizing their strengths and start working on them, ignoring all their flaws. They place emphasis on the pages that perform well and ignore the pages that perform poor. To spot pages that perform poor, you need to click on the Exit pages available under the Behavior tab and you can get access to pages, where people usually close your website and jump to another. Understanding the reason behind people skipping your site and reworking on your flaws can help you turn your weaknesses into strengths.
Customize It To Your Preferences
It can be exasperating to locate all the different options that come in a predesigned view offered by Google Analytics. To combat this issue, there is an amazing feature provided for users that lets them customize their own dashboard as per their preferences. All you need to do is click on Dashboards and followed by New Dashboards. Now you can build your wall, placing all your needs under one page. You also get the option to create multiple dashboards, which can be put to best use.