SEO is a process that you cannot afford to ignore when designing a new site for your business. It is SEO that makes your site stand apart from your competitors' and makes it visible to your potential customers when they are searching for the product or service that you are offering. But right at the onset, it would do you good to understand that SEO is a process and takes time and it would be wrong to expect overnight results from it. That is why it is best if you focus on building your business while entrusting the SEO work to other experts who have to their credit years of experience in the industry.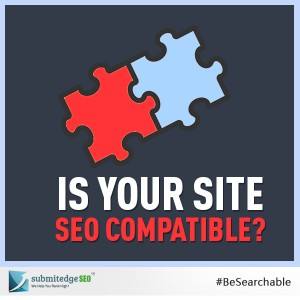 It is obvious that if your potential customers are unable to find your site, they will automatically go onto your competitor sites. So you need to ensure that your webpage is easy to find and quick to download.
Keywords are an integral part of SEO. You need to put in a good amount of research and find long tailed and short keywords pertaining to your site which will surely bring customers to your site and include them smartly in the content of your site. Watch out that you don't overdo it as too many keywords may lead to search engines overlooking your site. So the right keywords in the right proportion will work for your site.
Link building, another important aspect of SEO needs to be worked on meticulously. It is not at all about quantity; but about quality. Too many links but from low quality sites will not work for your site; even if you have few links coming back to your site but if they are from good quality sites with high ranking then search engines will rule in your favor.
Title tags and descriptions are necessary for the search engines to locate your site. Do not overlook it thinking it cannot be read by anyone and so you can write anything. Give equal importance to meta tags and descriptions too as much as you give to the content of your site for these are the factors that will actually bring the search engines to your site and so you need to have appropriate tags and well written descriptions with the proper usage of keywords.
Images used on your website needs to be of good quality and it goes without saying that it should be relevant to the content of your pages. An important aspect regarding images that is often overlooked is the title and description of the images. Remember that the images cannot be seen by search engines. They go by the content regarding the images so it needs to be properly titled and aptly described.
Content of your site has to be of excellent quality and do not ever include any duplicate content on your site or any of its pages. Each page should have unique content and of excellent quality without any grammatical errors.
Social media complements the SEO process. So take care to be socially active with regular feeds and see to it that your website is linked to all your social media pages.
Once all these aspects have been ensured, your site will be considered SEO compatible.