Businesses are constantly trying to improve their customer base on the internet. The most useful and economical method for promoting your website is search engine optimization. Local SEO is surely an effective strategy for local businesses that aim at attracting targeted audience in the geographical area. Does it make sense for a large business that has its set ups in different cities and countries to make use of local SEO for improving traffic?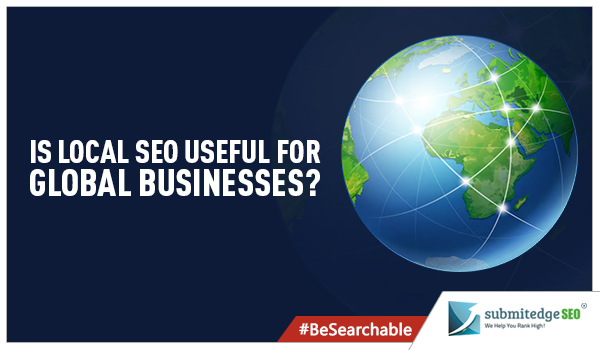 Local SEO can be used effectively for a website of any size.
• First of all, if your business has multiple locations, you need to have a separate landing page for each Google Plus listing, instead of directing customers to the main page.
• The next step is to conduct thorough research to learn about the tastes and preferences of people in specific geographical places. You need to know about how people search for products or services in each area giving an idea about the keywords to be used. The main focus is to optimize with the area name for which you have to study how people mention the name in their keyword (as the first word, in between or towards the end) and accordingly use it to your benefit.
• Apart from this, each place should have a specific title and description which best suits the targeted keywords.
• The listings should include a link that directs to the relevant location page on the website.
• Adding videos and images help to grab attention and improve traffic.
• Page titles, page names, meta tags, keyword density are important aspects of SEO that have to be optimized for targeted searches. A geo meta tag, address, phone, ZIP and map should be part of every page's content.
• For multiple location pages, the content should be different to avoid the risk of any duplication of content.
• Apart from all this, you need to include a link to each location in the sitemap. The link anchor text should be relevant to keywords. These links should point to the individual location pages.
• The name, address and phone number should be kept consistent and accurate in all online listings.
• Local directories should be filled with as much relevant information as possible.
• Building fully-functional social media accounts will help.
• For firms with multiple locations, you need to provide regular updated information about each store or branch in the particular area on that page. Address details have to be mentioned accurately as this will help search engines to check and rank the branch that is in closest proximity to what is being searched for.
• Ensure to make a mobile-friendly page for every area optimized with city, state, contact and address details along with events, working hours and specific service categories.
Big businesses should mainly focus on providing accurate data, current profile listings, fast loading websites, good click-through rates, best meta descriptions and more for specific areas to make optimum use of local SEO. To put it in a nutshell, local SEO is advantageous to all kinds of businesses. Its benefit is already proved for companies that reside in a single geographical location. For firms covering different geographical areas, if local SEO techniques are implemented specifically for each location, it is sure to benefit the business. It can help in improving the position of the website by ranking the relevant page for a particular location.