Online search has become such a crucial part of online marketing and website creation that many agencies are set-up exclusively to cater to search engine optimization for myriad websites. These agencies are proficient in all techniques, methods and practices of search optimization. However, many companies even create a small team of search specialists within the company in order to optimize websites on an on-going basis without engaging the services of an agency. There is a constant tussle between businesses on outsourcing SEO or just using an in-house team of experts. To make the decision a little easier, following are the benefits of each highlighted below: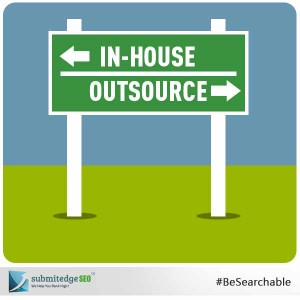 In-house SEO
a. Knowledge of products and services – There is no denying that an in-house team will have a proficient understanding of your products. This means that the keyword research and specific search tasks can be skilfully handled by the team.
b. Seamless integration – The product development department and search team will be seamlessly integrated leaving no room for miscommunications. Better implementation of various techniques and the ability to adeptly negotiate through the various layers of bureaucracy are the benefits of an in-house team.
c. Cost – An in-house team costs much less than an outsourced one that may charge hourly rates.
d. Localized SEO – Usually an in-house team is highly advantageous in promoting the company locally as the group is well aware of various tactics undertaken by local competitors. Moreover, the manager will be knowledgeable about the best local links.
SEO Agency
a. Aware of latest Google algorithm updates–An agency works with several clients on a daily basis which means that any modification of the search algorithms are instantly researched upon so as to keep clients happy and the business afloat.
b. Efficiency–An agency will have speed and efficiency on its side as employees have access to a wide range of networks that can quickly be used. Furthermore, often companies use part-time employees to work on their websites and that may result in sloppy work. On the contrary, agency professionals will always produce impressive work.
c. Diverse strategies andapproaches – Perhaps the most important benefit that a firm can gain from an outsourced business is the innovation and number of strategies under their belt. The diversity of approaches and techniques along with various creative minds ensures that the most innovative approaches are used to increase search engine traffic to your website.
d. Number of industry contacts – The in-depth knowledge on optimization, knowledge ofcontacts and latest trends in online search makes outsourcing a lucrative investment.
e. International approach – While the in-house team may think locally, an outsourcing firm has the ability to think globally. Employees in an agency are replete with experiences and can market a firm to reach an international target market effortlessly.
f. Continuity – In a self-employed team there are few employees (sometimes just one person), and when they leave, the continuity of SEO tactics are highly questionable. In contrast, there is no deterrence to work in an agency where a number of employees work on a daily basis.
There is no single solution to this problem as each firm has different needs and preferences. However, it is advisable to use a combination of an in-house team with an agency in order to utilize the advantages of both. The SEO manager in your firm can do the on-page optimization while the off-page techniques can be outsourced.