After reaching the top of the search engine, can you stop the SEO process? Or when can you stop SEO? These are questions that may have crossed your mind at some point of time. But to tell you the truth, your SEO process can 'never' stop. SEO is most necessary till your website is online and should never be overlooked.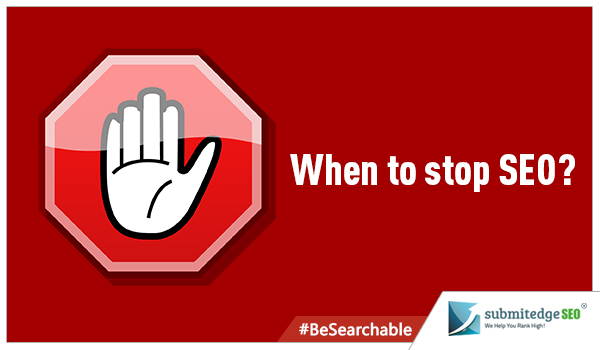 Let us consider a hypothetical example. Your New Year resolution is to lose weight and you join a gym or go regularly for walks and diet a lot to reach the weight loss target that you have set for yourself. Once that weight loss is achieved, if you stop exercising and stop watching what you eat; what would be the result? Obviously you will regain the lost weight, wouldn't you? In the same way, you design a beautiful site, and with the help of excellent SEO you start ranking on the first page of search engine results and then decide to stop the SEO as you have achieved your target of topping the search engine results. What would be the result? Your ranking will start slipping and your website will lose its place on the search engine. Let us look at why this happens.
You may reach the top of the search engines; but that position is not permanent. Just like you, other sites too are following SEO tactics to get their site to rank high on the search engines. So if you stop your SEO process, your website may get ousted from its position by your competitors. You can never afford to go slack on your SEO process if you wish to retain the top position as the others are also eyeing the same spot.
Once your ranking drops, your entire SEO effort gets nullified as you are pushed down on the ranking chart by other competing sites and soon you will not be visible on the top positions. Consequently, there will be a considerable drop in your website traffic from what it used to enjoy while on the top. Who would visit your site if it is no longer visible on the search engines! Another point to consider is that inactive SEO means your site becoming vulnerable to malicious attacks. You will then have to put in extra effort to clean up the image of your site and this is possible only through a long and tedious procedure. Meanwhile, you will lose a lot of your regular customers too.
There is nothing permanent in the world of SEO as the search engines keep updating themselves by introducing a lot of changes in their algorithms. The motive of the search engines is to always provide relevant and quicker results to their viewers; and for this they keep upgrading their search process. You need to watch out for this upgrading and constantly keep working on your site's SEO. If you have stopped your SEO efforts, then this would mean starting from scratch. As a business person you definitely cannot afford to lose so much time again.
In conclusion, you can never stop your SEO process as long as your website is online. Once you reach the top, do not be content and neglect the SEO; you need to put in extra efforts so that you can remain there.