Whatsapp always treats its users with persistent updates.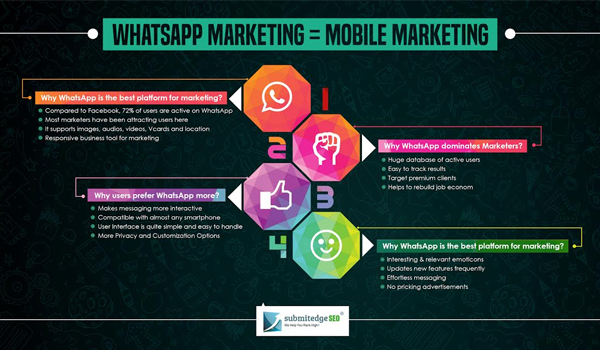 The features are compatible to every age group and it has been just getting better with time. The privacy and customized options caters more teenage and business oriented audience. Therefore, making it a strong marketing tool.
Apart from its special features Whatsapp has a special connection with its audience. Its new low data usage mode feature is just another way to confront its audience.
Worldwide accessibility of this app has been the best of this app's feature so far. To count on more, its more interesting than a simple SMS due to its prodigious emoticons and its easy to share contact information, again making it a golden opportunity for many marketers.
Managing your own brand on Whats App is like nurturing your baby with extra and advanced care. Marketing with this app for your brand/business will make you earn thousand more dollars than your expectations.
So, take chatting to another level, by making some business(money :D)  on Whatsapp. Check out the infographic to know more assets of Whats App marketing.