Good quality content is the first essential for any website that wants to succeed with the help of search engine optimization. Along with this, usage of appropriate and relevant keywords is of utmost importance as this affects your website ranking in search engine results. The important phrases to be used in your content totally depend on your business and the service you provide. There are many websites which even after posting very good quality content are not able to rank well as they do not use the right key phrases. With every company having the motive to rank on top, traditional keyword research is not enough. It is best to make use of a good keyword suggestion tool as you will get constant suggestions according to the current tastes and trends of users.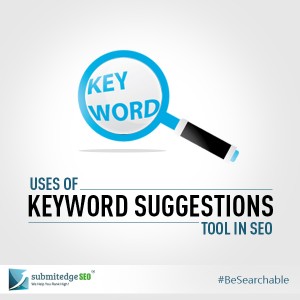 The keyword suggestions tool –
1. Provides rough suggestions about daily search volumes by users for major search engine networks.
2. Helps to link search volumes to related search results.
3. Can be used for qualitative and relative analysis.
4. Provides keyword suggestions letting you optimize content to gain better search results.
5. Offers reports on monthly search estimates.
6. Provides updated keyword suggestions ensuring that you are on par with changing search trends of your audiences.
7. Give suggestions about the commonly used ones by your competitors to rank on top.
8. Suggests key phrases that are industry-related and accurate which makes it relevant and improves your positioning and number of visitors.
9. Helps to obtain unique important phrase suggestions that your competitors do not have; using these phrases will make your website rank on top when searched specifically.
Using the suggestion tool is not something you should totally rely on. These tools suggest the potential key phrases that are proven successful. You need to keep in mind that these are estimates. Try to figure what is unique for your business and combine them well with your SEO efforts. These tools help in reducing costs as you can save resource costs. It helps with accurate and precise targeting. Reports help to find out which keywords have worked the best and the ones that have failed to. This lets you manipulate your SEO efforts accordingly to turn the successful ones in your favor.
Optimization of content for your website is important. While doing this, you need to be careful about not over-optimizing the content. Along with having the right phrases, the correct density is very important for gaining good ranking in search engine results. This is where a keyword density tool comes useful. It helps to find out the density of phrases used in a piece of content. All you have to do is just paste the article or an enter a URL, select the number of keyword results to display and number of words per phrase. In a few seconds you will get results with the count and density of most used words and phrases. The tool generates reports that elaborate on the number of total words on the page and number of linked words. You can get to know the number of non-linked words and stop words used in the non-linked text.
Making use of tools for better keyword optimization will surely add-up to your good quality content and push your website to rank high on search engine results.