Unlike some search engines Google does not ask you to pay any fee for the inclusion in the search results. You will get your website listed in Google totally free of cost. However the challenge here is to make your website worthy of this free inclusion. Google has to consider your website the most suitable site for any given search. It is your responsibility to make your website a suitable candidate. In order to make your website a suitable candidate for the inclusion, you need to first understand clearly what Google expects from its candidates without which you will only be fighting a losing battle.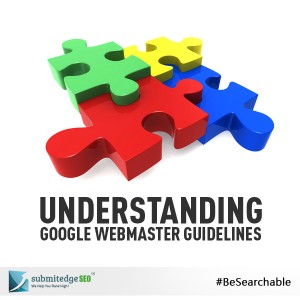 Google has stated its requirements clearly in its Google Webmaster Guidelines. Let us look at these webmaster guidelines to learn what are the expectations of these guidelines from the webmasters.
Google's webmaster guidelines is split into three categories namely Design and Content Guidelines, Technical Guidelines and Quality Guidelines. If Google has structured these guidelines in two these three specific guidelines then the search engine considers these three areas to be of highly important nature and that is why it has focused on these areas.
These guidelines are highly elaborate and in a post like these we will not be able to cover everything. Let us therefore try to identify the most crucial aspects discussed in each category.
• All the pages should be reachable through at least one static link.
• All websites should provide the users with a sitemap.
• All the pages should be tested for broken links and accuracy of the HTML.
• Along technical lines, if your website is using a CMS the pages created by the CMS should be crawlable.
• Pages that do not add value to the general internet users should be included in the robots.txt so that the search engine.
• On quality guidelines, Google insists repeatedly that you make the pages for the users and not for the search engines.
• You should also avoid tricks that are intended to improve the search engine ranking.
• Avoid the usage of under the table practices such as hidden text links, cloaking, loading pages with irrelevant keywords, sending automated queries to Google and the like.
Before you launch your website, you will have to make sure that your web pages are in line with these Google's guidelines so that you get noticed and you get approved by Google. Every day thousands of websites are launched online and Google really has a tough time in crawling them, indexing them and sorting them. Most importantly, the search engine has to rank these huge mass of websites. If you can pay attention to these guidelines, you will be able to achieve your ranking goals.
We strongly recommend that you keep your website as well as your ranking practices clean. Make consistent efforts and you will be able to enjoy the best results that you have always wanted for your website. Most importantly, know that it will take time for the websites to show up in the results.