Many social networking websites have come up in the last decade or so. Facebook and Twitter are the industry giants, however Google+ also commands a certain level of dominance over the social network. It is ranked among the most popular and most used websites in the world. Facebook allows users to create pages specific to their needs apart from the personal user accounts that people use.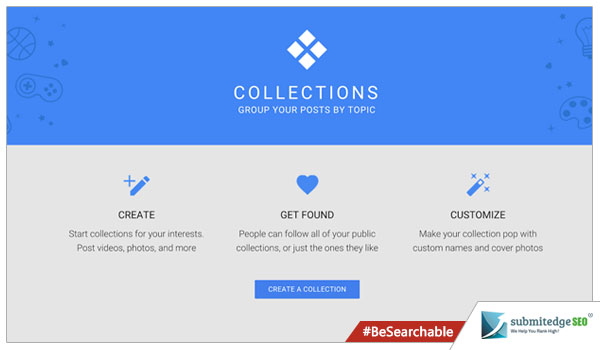 Google+ has come up with a new option in their user interface which is called as collections. This option allows the user to have boards of images, videos, and other content which can belong to a specific category. This option is very unique as it allows the user to host a page within a page. Any business that has their page in Google+ this option provides a way to build on content that is focused on certain specific areas of your business and that speaks to a diversified audience.
The advantage is, it is not limited only to one collection. The user is able to make multiple collections and name them according to their own preferences. Setting a header image as feature for specific collections and filling the boards with various images helps in highlighting the various features the user wants.
The privacy settings for this option is very easy and convenient to tweak and the user can select if they wish to keep the collections and boards visible only to specific users or make it public so that anyone can see them.
The important thing to note here is that once the collection is allowed visibility for specific individuals and groups, the setting is permanent and cannot be edited. The only way through which the specified demographic can be changed is by deleting the entire collection and starting a new one. Once the new collection is started the user can make the right choice as to which individuals or groups can see the collections or make it public all together so anyone can view it.
If the users wish to add posts to an existing collection they can easily do so. But they must make sure that the new post uploaded has the same privacy settings as all the posts in the collection. This means, if a user is keeping a post in the collection public he must make sure that the post is being shared publicly as well.
Once the user is sure that the post uploaded is public the next step is to include that into the collection.
For a user, to add a particular post to the collection all they have to do is, click on the drop down option which is located next to the share it icon on the individual post they wish to share. A helpful tip for all users is that if their posts are being automatically shared to their Google+ account from another app but are not shared as public posts, users can easily choose to change or update their app settings.