The Ultimate September Contest is here: Lucky Friday the 13th!!
What do you need to do to enter?
Like our page and this post. Then tell us in the comments – What's your Friday the 13th Superstition? Use the hashtag – #Fr13ay – in your comment. It's that simple!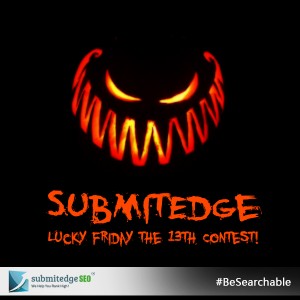 What are the contest dates?
The contest will be running from the 9th to the 13th of September.
What's in it for you?
We will select 25 winners who share the most interesting answers. Each of the winners will get one Social Bookmarking package worth $65 .
Who can participate?
If you are a website owner, a blog owner or the admin of a social media page (Facebook, Twitter, Pinterest, Google Plus, etc.), this contest is made for you! If you want to know how social bookmarking of your website/blog/page can help you, click here:
When will the results be announced?
We will declare the names of the winners right here on our page on the 16th of September, so keep following us.
If you have friends or colleagues who can benefit from this contest, don't forget to tell them about it!
Note:
1) This contest is run by SubmitEdge and not associated with Facebook in any way.
2) You need to have a website/blog/social media page to enter this contest.
3) If you have any queries regarding the contest, please message us on Facebook. We will reply at the earliest.
4) Once the winners are announced, we will inform you how to proceed ahead to get your prize.