Google shopping feeds have gained massive significance with the burgeoning craze for online shopping. Nowadays, individuals who have something to sell, invest in developing their online retail portal that helps them to gain global exposure for their products. However, with the rising number of online shops, it has been noted that not many retailers are aware of the tricks and tactics that could help them increase their conversion rates. This blog throws light over some effective strategies that can be used to ameliorate the product rankings over Google. If you think adapting to these strategies might be a daunting task then sweat not, as these strategies do not involve any deep technical methods or programming to execute them.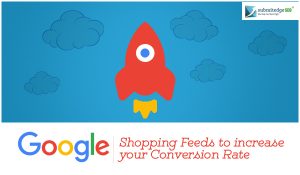 There are three essential strategies, which need to be noted down in order to make use of Google shopping feeds to rank your products effectively. These strategies are as follows:
*Ameliorate the accuracy of your feed with the help of attributes
*Experimenting with universal product code, manufacturer product number and brand
*Specifications pertinent to the size of a product matters a lot
Ameliorate the Accuracy of your Feed with the Help of Attributes
As stated in a recent survey by ROI revolution, when it comes to buying a product over the internet, customers place blind trust on their part, which is a big deal for them. Being able to trust a product without touching it or feeling can be a risky thing. Thus, having the right feeds featured for your product shall help in gaining the trust of customers. These feeds play the role of packaging products when it comes to shopping from the internet. With an accurately developed feed, the odds for a customer to click that buy button automatically peaks. Here are some tips to optimize your product feeds accurately as per the prevailing SEO standards.
The element of quickness is ingrained in the minds of customers as the swipe and scroll through different products online. Thus, when it comes to forming the right title, it is advised for manufacturers and retailers to frame a title from the customer's perspective. Retailers are allotted 70 characters of which only 25 show up in the feed. Thus, choosing to elaborate what your product is about within those 25 spaces can actually land you a sale. Mentioning the brand Name followed by the Exact Type of Product and then Features/Characteristics is a simple optimization tip that you can follow.
The description box provided to elaborate the features of your products is another strategy that needs to be developed in a detailed manner from the customer perspective. Online shoppers simply scan the information stated in the description box thus strategizing the content in an appealing manner can help customers to click that buy button.
Keywords represent that set of words which customers are likely to use in a search engine when it comes to buying a product. For instance, a customer residing in India on the hunt for budget friendly smartphone may make a search using the term "cheap smartphone in India". Thus, that particular become a keyword which when used in your description or title can help you fetch more customers for your products.
Experimenting With Universal Product Code, Manufacturer Product Number and Brand
The UPC, MPN and the brand are elements that are never going to be searched by any customer over search engines. These elements are in codes and collages of intricate number patterns thus, expecting customers to remember them is not happening. However, search engines that make use of algorithms do take notice of these elements and accordingly offer exposure to different products. Taking the time out to offer detailed insights pertinent to Universal Product Code, Manufacturer Product Number and Brand can help you stay on the safe side.
Specifications pertinent to the size of a Product matters a lot
Customers preferring to shop online never really are meticulous about details. However, buyers do seem to be more concerned about how the product shall appear. As a result, these buyers often tend to go searching for the size of the product. For instance, a customer looking forward to buying a trekking bag shall be concerned how big the bag is going to be since they buy a trekking bag with the intention of stuffing in as many products as possible. However, it is recommended that retailers need not get too specific with details. For instance, if your product appears to be in navy blue, mentioning it as just blue can also be a great thing, as customers never draw their attention to specific details.