With Google and other popular search engines laying stress on high quality content, all businesses have started paying more attention to the content that they display on their websites. Content is turning out to be the most important aspect of internet marketing. Businesses that continue to post irrelevant and uninteresting content on their websites will lose their identity on search engines. Success for you would mean visitors coming to your site and staying back to read the content you have posted and getting in touch with you or sharing the content.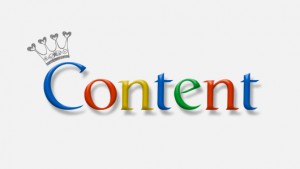 Just to prove the point, take some time and visit the later pages of the search engine results for some keyword and randomly select one or two websites there and some of the top ranking sites. Draw a comparison between the content of the websites on the first and second position and those maybe on the fifth page results. The result will speak for itself. They may have attractive pictures and the sites may be designed well but relevant content may be totally missing and you may visit any number of pages on the site and yet not be wiser about the products or understand the business. On the other hand, the top ranking site will display relevant information about the company and its services through high quality content.
Search engines would definitely give precedence to relevant results as only then will customers be satisfied and only happy customers will come back for more and consequently earn them revenue. So their intent would definitely be to place relevant and high quality sites on top of the search results so that their customers find exactly what they are looking for, at the first instance.
If you were looking for some hotel would you rely on a recently updated site or one which has not been updated since past one year? The answer is obvious, isn't it? The site which has not been updated for long is clearly out dated and no longer relevant. The hotel tariff itself may have been revised over the past year. The room photographs that have been put up will be outdated. As a customer, you would naturally want to take a decision based on the updated tariff and look of the hotel. So updating the content regularly will help you give relevant and recent information about your product and services to your potential customers, painting a favorable picture of your business amongst them.
Do not keep posting mediocre content just because you have to keep adding fresh content. If you want to stay on top of the search engine results then you must keep adding high quality and relevant information. The articles that you post have to be well researched and informative. Do not let your writers do a shoddy job.
The more number of times you keep adding fresh content to your site, the more are the chances of reaching out to customers and getting on top of the search engine ranking. In online marketing, it is most essential to keep the customers on your website. And this is possible only through updated and quality content. So keep writing and posting…