Anywhere you turn, all you can see is people with their eyes glued to their mobiles. But as a website owner, you should look at this as a business opportunity and should ensure that your website is compatible to mobile marketing which is assuming greater significance. People are choosing their smartphones over their laptops and desktops as it gives them more mobility. They are using it not just for social media purposes, or play games, or find information, but even to shop.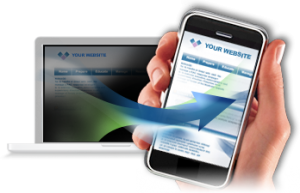 Individuals are using their mobiles more than their computers to access internet. This rise in mobile traffic has increased over the years and is likely to rise further in the coming years. If you have been overlooking this segment of internet users, then you better start paying heed or you will miss out on this potential and significant section of your website traffic.
You need to ensure the following points to appeal to this new section of internet users:
* First and foremost, you need to have a mobile version of your website. You do not want to lose out on your target customers who may be searching for your business through their desktops or their mobiles. So you need to cater to both these categories. Your website should be compatible to all screen types as your customer can be accessing it through their laptops or ipads or smartphones.
* If the user is not able to navigate easily through your site then it may leave them frustrated and make them exit from your site. Check to see that your website is easily navigable even on mobiles.
* Your website design should necessarily be mobile-friendly.
* Can the content on your site be easily read even on a small screen? See that you do not overcrowd the website with too much content that the viewer gets bored to even skim through it. Make the text attractive and well highlighted with bullet points and headings so that the user gets curious enough to read through the information.
* If you have used a lot of images on your site, please check that they are resized for easy viewing on smaller screens too.
* Optimise your website for the mobile traffic also as they form a significant part of your website traffic and contribute to its ranking on search engines. So you need to give the due importance to it.
* Major online viewing comes from video viewers. So having an excellent video which can be easily played on mobile screen too is a must these days. That is the only way to grab the attention of your potential customer.
Mobile marketing is not optional anymore. It is fast becoming a necessity as your major website traffic comes from mobile users. Most of the local searches happen from mobile devices and so you cannot afford to ignore this segment of internet users. Having a mobile marketing compatible website is a must for any website owner.