Google makes use of some of the finest mechanisms when it comes to uncovering and hunting information pertinent to different subjects. No matter what you enter in the search bar, as far as it is relevant, it is evident that you shall be redirected to the source that can help with the information you are looking for.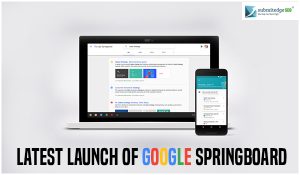 Every individual simply loves Google for its effectiveness in hunting down information from across the globe. With all its effectiveness, the ones behind the screens have recently introduced a new tool that sets the bar higher in terms of efficiency.
Springboard is the name provided to the new tool introduced by Google. So, what can Springboard do to elevate the effectiveness of the giant search engine? Springboard is a tool exclusively designed to help workers find information at any given moment.
With Gmail being one of the finest email networks, many people make use of it to transfer files and other crucial documents in bulk. Thus, there is a possibility that finding any previous document amongst the large database you maintain can prove to be problematic especially when you run out of time.
With the help of Springboard, users making use of Google apps can easily detect any given files instantly at any given moment. Just like search engines, you can make a search to find your previous document and get hold of it as soon as possible. The Springboard tool has been designed in manner wherein it offers suggestions just as the search engine provides a plethora of recommendations to make the process easy.
The next big news to breakout during the announcement of Google Springboard was that the officials had also dropped hints about introducing a significant update to the Google sites. The update is being introduced in order to make it easier for users to garner information from Google apps in a hassle free manner.
The effectiveness of both, Google Springboard and the updates to Google's sites are being examined over a handful of users. Google intends to bring more effectiveness and accuracy to the table with the official launch of Springboard.