Powerful promotion and social media – Sounds like a made-for-each-other phrase, doesn't it? The way social media is empowering the world is just amazing! Social networking helps you build your brand's identity in ways you had never imagined before.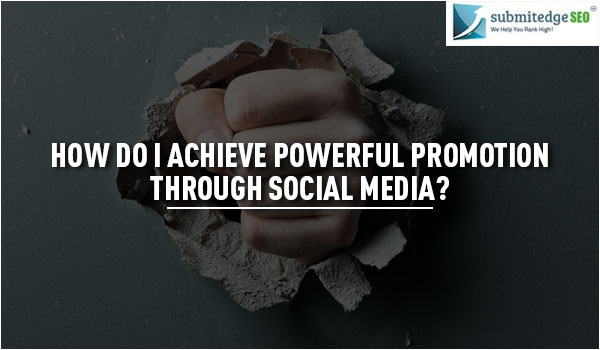 First and foremost, to powerfully promote your brand, you need to have an impressive digital personality. Promotion isn't only about companies it also revolves around your followers. Social media platforms such as Facebook, Twitter, Google+ and/or Pinterest offer great opportunities to meet new people, explore ideas, and expand your social circle which in turn helps you promote your brand.
Why social media?
Social media has the largest market share and a huge user base which is perfectly ideal for sturdy promotion. It's pretty interesting to see how numerous connections and complex networks of people act as a boon to boost your brand. Put anything with a little flavor of creativity and it goes viral within a fraction of a second! You just need to step out to attract your target audience. Remember, online connections have the potential to bring drastic change to your business; even better than real-life connections.
Here are few social media platforms that'll help you boost your brand:
> Facebook- With over 1 billion users worldwide, Facebook continues to be the king among social networking websites. It is an awesome place to promote your brand. Crispy words with superb images go hand in hand to gain great number of likes, shares and comments that constantly keeps your brand at the top in news feeds. Facebook Ads and blog posts too attract considerable traffic.
> Twitter- You cannot afford to ignore Twitter when it comes to handling your promotions. Actively posting interesting tweets everyday keeps your followers updated. Be unique with your tweets and concepts of branding on Twitter and see how it accelerates your popularity among your social circles. Don't miss out on an opportunity to showcase your brand on this fast growing social platform.
>Digg and Reddit- These two websites exclusively provide news. What you get is the greatest probability for the stories to go popular with massive strength. Digg's model features marketing and sharing articles. Reddit is a social networking and news website where regsitered users submit content in form of text posts, images, links etc. You'll find the content entries categorized by domains of interests called 'Subreddits.' They include wide range of topics like gaming, movies, news, fitness, music, books and so on.
Keep blogging!
Finally, get yourself armed with blogging to create hype around your brand even before it is launched. All you need is a fresh and crunchy writing style using minimum words to deliver maximum effect. Besides Blogger and WordPress, Tumbler is another noteworthy website where bloggers can share photos and animations along with their content.
Ultimately, technology is just a tool it depends on how innovatively you utilize it for your business promotion