At the recently concluded Google I/O developer conference, the search engine mogul announced the expansion of its app indexing program. This means that app indexing would now be applicable to all Android apps as well as developers. App indexing is a feature that supports deep linking of content from the search results on mobile devices. Prior to this change, Google had been indexing only certain applications even though the program has seen substantial growth. Moreover, not too long ago, it was expanded into multiple languages. The developer guidelines were translated into eight additional languages – French, Chinese (Traditional), Japanese, Brazilian Portuguese, Italian, German, Spanish and Russian.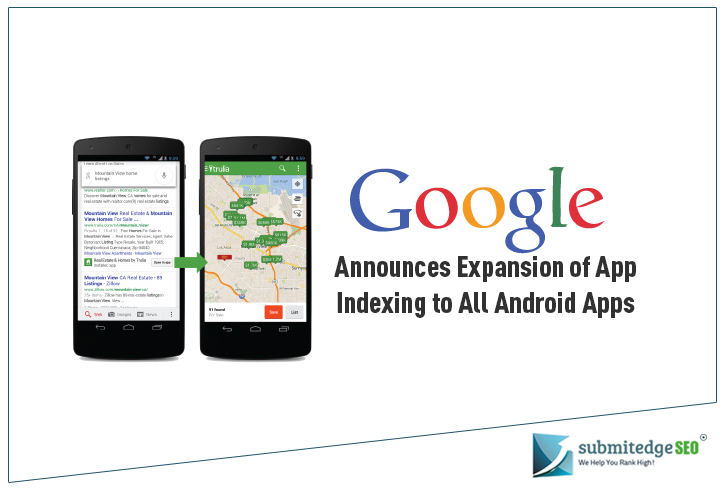 In the month of April, Google had launched its app indexing globally in the English language. This ensured that deep links to the mobile apps could appear in Google search results on Android devices in any part of the world. Upon conclusion of the meeting recently, the search engine giant added the first publishers with content in other languages for applications such as MercadoLibre, Marmitonm Fairfax Domain, Letras.Mus.br, Vagalume, Idealo, L'Equipe, Player.fm, Marmiton and chip.de.
OpenTable is one of the best sources to find restaurants and make reservations. It offers a mobile application of the same name, which individuals can install in their respective Android devices. Say, an individual performs a restaurant search he/she can be linked from search results directly to the profile page with the said application. Such apps are useful for every person. Individuals can conveniently discover the in-app content through search, which can further help developers. Users, too, can benefit in a certain way, as it enables them to get relevant content in their application without facing any discomfort. This further helps Google to make the searches more liberal and useful to mobile phone users.
Initially, when the apps were not indexed, the search result and the subsequent click through rate to a mobile website was a possible substandard experience. Thanks to the in-app indexing, Google can now deliver an overall better experience for all Android phone users. With applications such as OpenTable and Yelp readily available, Google has experienced threat of a kind as the apps may circumvent it. Nevertheless, with the recent upgrade the major search engine seeks to reassert itself as a global content discovery tool for mobile phones (it is already available as a desktop version).
Webmasters can now connect pages with specific content within from websites within the Android application. This gives Android users the convenience of opening the concerned page directly from a relevant mobile search result on Google. At present, the service is currently applicable for Google Search App version 2.8 + for Android 4.1. Besides that, it is also available to certain mobile browsers on Android, in case the user is already signed in. Google, however, is testing this service only with a certain target audience and the service is not yet available for all Android phones.
Earlier, Google had announced an addition of 24 apps that supported app indexing. Among the list, you can come across the likes of TripAdvisor, Tumblr, Bleacher Report, BigOven, Goodreads, Glassdoor, The Journal, Zillow, Urbanspoon, and YP.
Furthermore, the search engine advised some technical practices to implement app indexing –
• Application deep links should be included only for those web URLs that are canonical
• Specifying an app deep link for the homepage is imperative
• Not all URLs for websites in a sitemap need to include a parallel app deep link. Android users must not include app deep links that do not support their application
• Individuals must not provide footnotes for deep links that execute a native ARM code.