Well, that might come across as a real tricky question. Picture this: blogging about your favorite topic everyday and not getting the visibility you deserve. Feels like your efforts are not getting noticed, right? All thanks to the Internet world, you can now combat the problem! The varied platforms ensure that your post gets the attention it deserves. Here are a couple of places that are a sure shot way to earn those brownie points.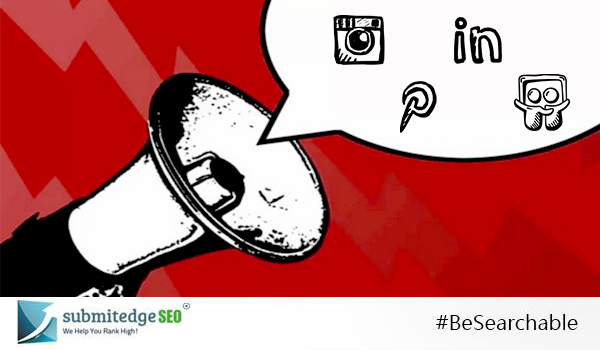 1)Slide Share: Think that this software is only for your office presentations? You' re going to give this notion a toss pretty soon. Transform your blog into a slide-show and see it work wonders. The format is such that people are compelled to give it a look!
2)LinkedIn: You heard it absolutely right! A place considered to be primarily for the 'confluence of businessmen' also appreciates quality content. Share the link to your blog post and gear-up for a share of thoughtful reviews. A quick heads up: Make sure you don't don the hat of a spammer.
3)Pinterest: Creative ideas and attractive pictures. These are probabaly the only words that come to your mind when you think about this platform, right? There's undoubtedly much more to this visual discovery tool. Create an alluring picture that well represents your blog. Once you are done, keep your fingers crossed for the amount of shares it gets.
4)Instagram: Use the same strategy as above and you're sure to win this platform and hit the bulls-eye here as well! Teens and young adults are sure to notice your work instantly. Think no more and get the traffic you desire!
5)Triberr: Ever thought there would be a social platform for targeted tribes? If yes, then your imagination has seen the face of reality. Join a group you think will relate to your content, for no sooner will you be striking a chord with the other bloggers with similar taste. Buckle up for those discussions with likeminded people!
6)Visual.ly: Info graphics- the best way to convey the content hovering in your mind. Happen to agree with this statement? If you are nodding your head, then you've come to the right place. Giving your blog a great visual effect will definitely help you in the long run for promotional purposes.
7)Google+ Communities: Interested readers, check! Ability to change the traffic figure, check! Bestowing with legitimate value for that traffic, check! Do not doubt yourself, simply post your blog without any further apprehension.
8)Scoop.it: A free program does sound like music to many ears. This is how marketing professionals at Scoop. it endorse this network. It beckons all the bloggers to open a "freemium" account with them. Done saying that, a 'place for refreshing content' is how the online audience recognizes this platform.
9)Niche Based Social Bookmarking Sites: SEO, SMO, Internet Marketing, CMS. Ask and the online world gives it all to you. The desire to opt for each and every one of them is inevitable. Bear in mind that there are different sites that cater to the above services. All you need to do is select the right one and get started!
The next time you think of going the publicizing way, you know what should be done and how it's done. So, getting going!