The predominant (or most significant reason for using social media sites like Facebook and Twitter is to communicate efficiently through visual content and post new updates and trends. Every post has an emotion to convey and users are more influenced by content that catches their eye either through personal interest or by the feeling added to the information on the post. The introduction of animated emoticons got users really excited as they could make comments and personal conversations interesting. Now, with Facebook launching its latest feature providing support for GIFs, sharing updates is going to become even more fun. You can express how you feel by adding a relevant animation.
Animated GIFs are very commonly used in news articles. These are added to listicles to make content simpler to understand. Websites like Twitter, Tumblr, Reddit and BuzzFeed have been using them from quite some time now. Even though Facebook has not been in favor of it all this while worrying about the clutter it could create, the company seems to have finally agreed.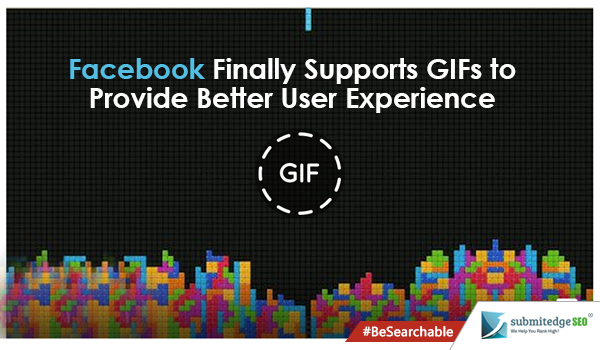 Even though sharing GIFs on Facebook was possible, it was restricted to only doing it from Giphy. You may not always find animations related to everything you want on this website. With this feature, the site supports GIFs for images from all sites.
How does it work?
All you have to do is just copy and paste the .gif URL in your status bar and publish it. You can post links from third-party sites and share anything you like. The links you post may or may not automatically start playing based on the video auto-play setting.
Auto-play setting –
If the auto-play is set to 'off', you will find the word 'GIF' with a white circle around it, placed on the image. The animation will start playing only if you tap the word. You can change the settings if you want it to play automatically.
Who can make use of the feature?
This feature is only available right now for regular Facebook users. It will not work for pages and advertisers. The company has stated the probability of the feature being available to Facebook pages in the future.
The drawback now is that the company does not allow users to upload GIFs from their computers or mobile devices. Even if you try to upload them from your computer, it will be converted to a still image. You will only have the option to post something that you find on the internet. The feature is available on the desktop site and mobile apps but not on the mobile website.
Benefit of the feature –
The feature is aimed at improving user-experience. Even though sharing images is a good way to denote something, animation can make it better. With these animations, your news feed is bound to draw attention and engage people in conversations. For instance, if you are having a conversation about minions with your friends, you can post a GIF of minions to make it fun. If the topic under discussion is sports, you can get animations on the internet related to that particular sport which can be posted like an update to show a specific move or just to pep up the conversation.
Even though it is still rolling out and may not work for everyone right now, it surely will be enthralling to try posting some GIFs to your news feed and experience a positive difference in the way you use Facebook.