The upsurge in the number of people preferring to purchase products and services online has led to high competition among e-commerce websites. They are constantly trying to increase their customer base and earn more revenue. Adhering to SEO is the easiest and affordable way to do this for which a strategy has to be worked on. There are certain major points that have to be focused on.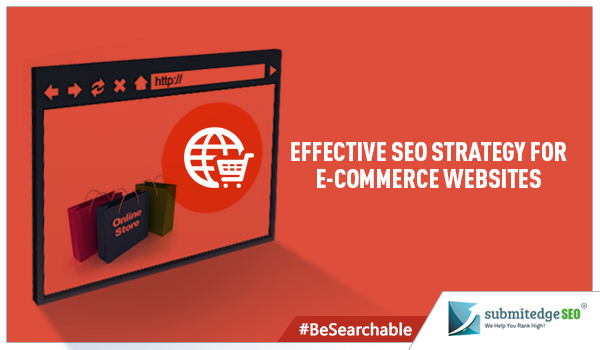 1. Find the right keywords –
Keyword research is the most important step to be done as part of your SEO strategy. You need to figure out the right keywords for your home and products pages. This will help to optimize these pages as they are most significant for the website. These have to be researched based on relevancy, possibility of ranking and search volume. Choose less competitive keywords and try to frame ones that specifically highlight your product.
2. Know your competitors –
Conducting competitor research is essential to know where you stand and accordingly grow your business. First of all, you need to figure out the keywords used by your competitors. Next, check if they have a higher domain authority and page authorities than your website. This will give an idea of specific keywords you need to focus on rather than trying to rank for common ones as that may prove challenging. This research will help to know where their websites are getting links from. You could also check their site architecture and understand where you are lagging behind.
3. Site structure –
For an e-commerce portal, the architecture of the site is very important to improve usability and conversion rate. It has to be designed in a way that product pages are just few clicks away from the home page to simplify the navigation for the user.
4. Appropriate Internal linking –
Properly linking pages within the website is crucial as this helps to establish your own anchor text improving rankings for top keywords.
5. Focus on usability –
An e-commerce portal that is easy to use is bound to draw repeat visits by users. The emphasis should be on trying to save time for shoppers and also make the experience extremely convenient.
6. Need to have a mobile-friendly website –
Having a mobile-friendly store is now more of a necessity than a choice. It is the most effective way to increase your customer base as many people prefer purchasing products on their phones.
7. Importance of customer reviews –
Apart from features, the most vital thing a user checks about a product are positive customer reviews. This will, to a great extent, increase conversions as most people base their purchasing decisions on these reviews. Frequent reviews means fresh content which makes your portal desirable for search engines.
8. Integrate social media –
Another effective way for an online store to gain more customers is through social media as this gives exposure to many users at once. It helps to engage with customers and sharing content becomes easier.
9. Link building exercise-
It is important to gain links from high authority websites that are relevant to your content as this makes search engines consider your site trustable and recognized.
10. Use SEO tools –
To make the planning process easier, make use of SEO tools that can help you research and analyze ensuring that you come up with the best seo strategy for your e-commerce website.