Take a deep breath and focus on calming your mind as the recent Google AdWords update may leave you in complete shock. It is about more than a decade now that no major metric updates have been introduced by Google AdWords. However, the tech-giant Google is now planning to introduce slight modifications, which are designed keeping the users' benefit in mind. The Google AdWords update shall now take business ventures and entrepreneurs making money via the AdWords, to the next level.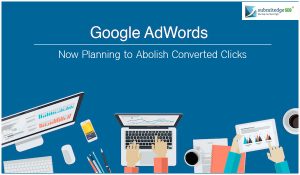 September 21st marks the day when you as a digital marketer or any random individual making money on the web with the help of Google AdWords will have to get along with some serious alterations as the primary metric of Google AdWords are now all set to retire. The new update brings the feature of not counting converted clicks and terms that "Conversion clicks" shall henceforth hold no significance.
The information fed in the Conversion column shall serve as the key determinant to measure the action performed over web portal following an ad click. The key difference that is expected to pop up after putting the latest AdWords update to practice is the inability to estimate the conversion rate. Simply put, Converted clicks have the tendency to track every action performed on your web portal after an ad click.
Conversion factually represents the data where an ad click assisted a visitor to complete the planned action such as dropping a request for a quote or making a new purchase. To keep it short, the conversion column purely represents data, which conveys the effectiveness of your ad in driving the business. For the time being, Google AdWords intends to put both the metrics to good use. However, Google reports state that there are many advertisers who are already making use of the conversion column data to estimate their reporting and bidding process.
So just in case if you are still relying on converted clicks data then it is high time for you to think twice and take action based on the implementation of the latest update. 'Conversions' on the other hand offers everything that Converted clicks provide and in addition to that they also offer many other benefits such as mobile-centric actions, cross-device conversions, and store visits.