Copywriters spend more than half of their working lives ideating, so that what they eventually put down comes across as effective, powerful, compelling, and imperative. Essentially, theirs is the most important job in the publicity arena: to produce such copies that drive people to purchase products or services. In other words, they hold the torch to coming up with some competitive CTAs that you usually find all over the internet. Copywriting may not be everyone's cup of tea, but if you understand how they work ground up, you may be able to devise your own CTA strategies. Some outline such as the following should give you a definitive sense of direction.
I have condensed over a dozen diverse formulas to nine which I found most plausibly applicable: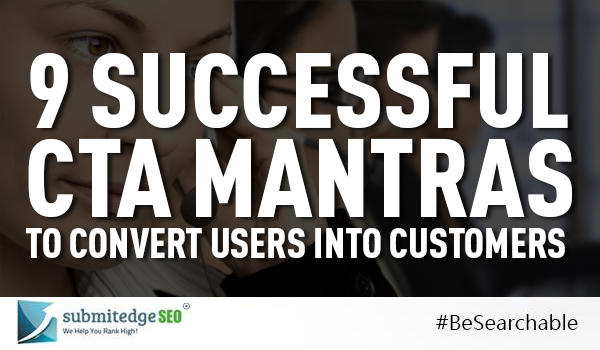 •Play on the time factor
Do people like waiting? No! What you must assume is your targeted audience is impatient. Your appeal must therefore have a tone of urgency when you say "Contact us now and get your job done in a matter of seconds!"
•Touch the deepest emotional chords
An evergreen strategy, always works with a broader audience that enjoys a little bit of drama in their everyday lives. Vogue Women Empowerment has probably been one of the most successful campaigns in India this year. Their efforts at raising brand awareness have definitely doubled up after the flood of publicity and hype they created within a month's time!
•Make it circumstantial
How else would you convey the purpose of using a particular product or service? Target a specific community within your audience, scale down to an act that the target usually indulges in, reproduce the situation in the form of a compelling copy et voila! Your CTA is ready.
•Raise a conditional alert
This is something that most physicians and general practitioners have to propagate on a daily basis. What if they stopped telling you just how harmful the consequences would be if you did not act immediately? This should be the tone of your publicity. "The longer you wait the worse it could get…"
•Issue and Damage Repair
All the teleshopping ads use this formula to drive their sales up. Their tactics essentially point towards relating to the audience with respect to their problems. "Are you a victim of hair damage? Contact us for the best hair repair solutions…"
•Cut to the Chase
Simply tell them 'how it works'! It is that simple. It is more important to convey what your service is really about.
•Make it feature-centric
For services that have multitudes of features, it is probably best to highlight them. The key of course, is to ensure that the copy is neat, comprehensible, and to the point. Use innovative techniques for listing features.
•Make Benefits the Hero
Why else would customers buy your products or services? Use your best resources to come up with eye catching copies that explain how the product or service will benefit them after the purchase.
•"Buying also means saving"- tell them that!
Part of your targeted audience will always look at cutting costs wherever possible. Direct them towards facts that compare your reasonable pricing to those of your competitors in general. In short, tell them how much they save by purchasing your products as opposed to your contenders.
I also found some other interesting formulae such as painting a wonderful picture of service benefits and flaunting performance based awards in the adverts. The important thing is to not hesitate to try newer formulas if the older ones go down the mill after a point of time.