Every business has their select tools of the trade. There was a time when content creators – formerly known as writers – would use things like encyclopedias, pencils… and ridiculously huge typewriters. Nowadays, there's Google – and I still thank my lucky stars for that, because I'm pretty sure my Britannica set still thinks the USSR is around, along with "car phones" and "cassette tapes."
With better tools comes better efficiency. Since these tools increase our ability to research trends, coordinate tasks, write articles and even automate our own syndication on social media, we're getting left in the dust if we aren't using them.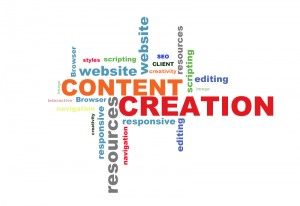 When the tools evolve, then so do industry standards. So, here are eight fantastic tools for content creators to keep you ahead of the curve and ingenious content flowing from your fingertips.
1. Trello
Trello is basically an online dashboard task management utility. I tell other freelance writers, marketers, editors and anyone else who works remotely – if you need to coordinate tasks, assign deadlines and see a realtime picture of what's going on, use Trello. It's simple to use, easy to learn and it's free.
2. Quora
Sniffing out a trend goes beyond just what Google seems to think is important today. While using Google does have its advantages, sometimes you just want to know what real people are asking about a given topic.
Quora is a website that allows you to see the most popular questions from real people. We write informative content, because people are always seeking knowledge – and Quora helps me figure out the most popular questions people have been asking this week.
3. Visual.ly
The infographic is pretty much taking over the internet. According to Unbounce, Google searches for infographics have exploded by 800 percent between 2010 and 2012. Visual.ly is one place that infographic creators come together to share their work – and it's a great place to find a relevant graphic to share or excerpt in your next blog post.
You can also discover great data mines by scoping out where other infographic creators source their statistical information. Just be sure to give credit where it's due if you use an infographic – or even just a piece of one – in a post or social update.
4. Buffer
If you take a glance at my Twitter feed, you'll see a lot of buff.ly URLs. That's because I'm a huge fan of Buffer! This simple tool spaces out your tweets so that even if you add a bunch of tweets at once (say, when you're reading through your blog subscriptions in the morning), they get spaced out across the day. You can customize how many tweets are sent out each day and when they go live, to best suit your audience. If you want a broader set of tools, HootSuite is a great option as well.
5. Pocket
Pocket is a tool that allows you to save a URL to read later – and it works across devices. If you're on your Macbook and you spot a great article right before you go to bed, you can save it to your Pocket to read during your morning commute on your iPhone.
You can use it exactly this way, but as a content creator I like to think outside of the box. For instance, if I'm working on content in the motorcycle niche, I might save this new electric bike that popped up on Trendhunter and this article about a man's whose heart rotated after getting in a motorcycle accident.
Pocket is especially useful if you put together an editorial calendar for your social media accounts. I'm now juggling five different sites, eight different blog posts, four news stories and a white paper PDF. As long as there's a URL, I can save it with Pocket. No longer will I lose 17 open tabs on Safari, because I moronically forgot to plug in my laptop.
6. IFTTT
If you want to look like a content creation wizard, one of my downright favorite tools is IFTTT (If This Then That). It's an unbelievably simple solution to an extremely complex problem, because it allows you to automate pretty much anything, from blogs to social media to SMS.
For instance, if you want to automatically post an image tweet for every time you publish a piece, then you can create an IFTTT "recipe" for that. If you want to update your Tumblr to post with every new article from a selected RSS feed, then you can create a recipe for that too. IFTTT will do just about everything other than bake you cookies. For some inspiration, just check out the gallery of public recipes.
7. Creative Commons Search Tools
It is possible to do a "Creative Commons" image search on Google – however, most of the time, you're going to get the phonebook of low-quality stuff. Not to mention, you still might have to wonder whether or not the image is actually free to use or if it was just an algorithm error.
Using Flickr's Creative Commons section, on the other hand, is absolutely stellar, especially if you don't want to pay through the nose for an image on Shutterstock. The photos are good quality – compared to most other "free" stock image databases – and they are easily accessible.
Various tools exist to search Flickr's CC section for you – my favorites are PhotoPin and CompFight.
In fact, there are even a few WordPress plugins that will allow you to search and drop in the image right from your post dashboard – and it will even automatically include the proper attribution caption.
8. Google Drive
What tool will give you a completely free word processor, the ability to save automatically to a cloud, total integration with other Google products, the ability to share and co-write documents in real time and do all this without ever having to save to your own computer? Google Drive, of course.
When used in tandem with Trello, Google Docs offers an absolutely seamless way to work and collaborate remotely, and you don't even have to download any software or save anything to your hard drive.
Of course, if you add Google Apps For Business, you'll receive unlimited space on Google Drive – at a whopping five dollars per month. Every content creator should know how to work with Google Docs, especially in 2014.
Content is king in the world of digital marketing, and if you're not keeping up with the latest trends, you can be sure you're not leading the pack.