Twitter is a great platform to make your blogs go popular. You can reach a maximum number of people within limited time. However, promoting your blog, on any social platform, isn't as simple as it sounds. It cannot be always done by the author himself.
Your job involves in collating relevant audience, finding out what they need and create posts which are according to their needs. You can go one step ahead by sharing it on your profiles on various social media platforms. But this might not give the desired results. A plug-in will make the job easier and quicker. Be it a new reader or an old one, with a plug-in on your blog, you can take your blog promotion to the next level.
Read on to understand a few tools that will make retweeting, tracking shares and the likes easier right from your blog.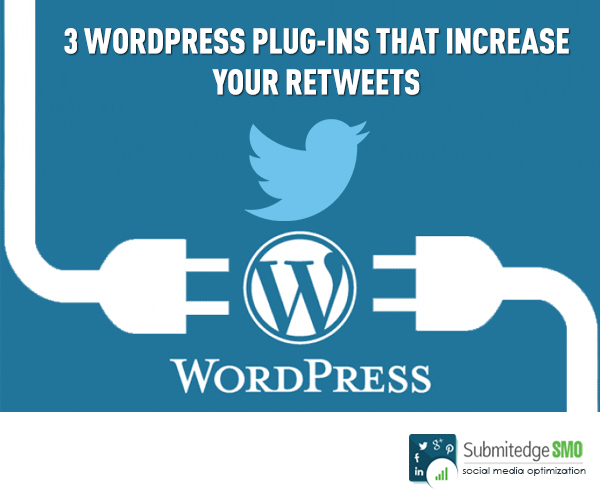 WordPress Plug-in Installation
Installing plug-in is not a difficult task; even a rookie can get it done by following a few easy steps. Follow the instructions given below for easy access:
*Sign up and login to your WordPress blog.
*Once you are logged in, in the sidebar you will find a plug-in button, click on it and then on Add New button.
*Below on the next page, you can install the plug-in you want by just typing in the box and then clicking on the search button.
*After you get a list of plug-ins that matches your search results, pick the one you want and click on Install Now.
*Click on the Activate button and your new plug-in is displayed on the plug-in page.
Here are 3 great add-ons to your blog:
a) To make Retweeting Simpler..
When someone visits your blog, he shouldn't be searching for the retweet plug-in. If the reader is impressed, he would want to share the blog immediately and if he doesn't find the tweet share button, he might be disappointed. A plug-in will make retweeting a very simple job. The simpler your blog sharing is, the more shares it generate.
b) The Easy Tweet Embed Plug-in
This plug-in works as a post planner and is a simple, yet effective tool. It helps one match up diverse parts of your blog and tweet them separately. What's more? You can add personal shortened links & track the traffic brought by the number of shares.
c) Add a 'Flare' to your Blogs
Track your posts simply adding this WordPress plug-in. You can customize this plug-in according to your requirements, adding social media buttons like Facebook and the rest. It will show you the number of shares each post carries.
Do you know any other plug-in which is a great add-on? Share it with us now.