At present, search engine optimization is one of the very effective methods to increase user traffic to your website. The process is about adopting strategies to get your website listed at the top of search engine results. The latest search engine algorithms lay maximum emphasis on content-rich websites. I do not claim to be an expert on it; but as an avid blogger I would recommend some tips SEO writers can take help of to improve the listing of the websites they are writing for: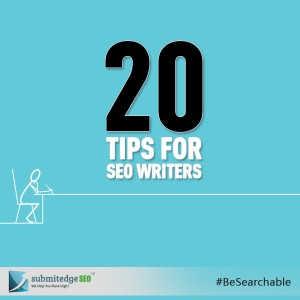 1. Emphasis on audience – Write content from the readers' perspective by providing information they are looking for.
2. Catchy Headline – Come up with a headline that catches the attention of the reader and also gives an idea about the article. Use keyword rich phrases in the headline and article.
3. Numbered Headline – Headlines with numbers stand chances of getting more clicks as people love reading lists.
4. Use Subheads – Headlines help to create interest in the reader about your article. To make them continue reading, it is best to make use of subheads.
5. Font – The right type of font and size plays a major role in making the content easy to read and visually appealing to readers.
6. Bold and Italics – Highlighting certain important words and phrases is a good way to enhance readability. This ease will improve readership.
7. Longer Content – Writing longer articles with original and unique content improves the authority of your website and provides more valuable information to readers.
8. Short Paragraphs – Divide the information into short paragraphs with minimum number of sentences as this makes it easier for the reader to scan through the information.
9. Long-tail Keywords – For a new website to gain good ranking, usage of long-tail keywords is beneficial as they are refined and specific, letting you rank better for the particular search.
10. Answer Queries – Another effective way to gain more readers is to answer queries or guide issues of readers giving them the information they are looking for.
11. Appropriate Keyword Density – Using keywords is important but you need to limit it as over-usage may list your website as spam.
12. Structure of Post – Good quality content in the article is useful to the reader only if it is structured in an appropriate manner for easy readability.
13. Tone – Frame information in a conversational tone. Use the language that your target audience can easily relate to.
14. Focus – Stick to the topic and get straight to the point to sustain reader interest.
15. Meta-tag Descriptions – Meta- tag descriptions are very important to get the user click on your link.
16. Fresh Content – Updating information on a regular basis is of utmost importance as search engines value fresh and relevant content for rankings.
17. Trending Topics – Try to cover topics that are fresh and in conversation at the moment as this is what most people would want to read about.
18. Media-Rich – Adding photos, info graphics and other visuals in the article will help to gain more views.
19. SEO Tools –Use SEO and writing tools online to make your work easier.
20. Proofread – Get your content proofread as incorrect grammar will affect the credibility of your website