Case Study for Lipbalmwithlogos
Home » Case Studies » Case Study For Lipbalmwithlogos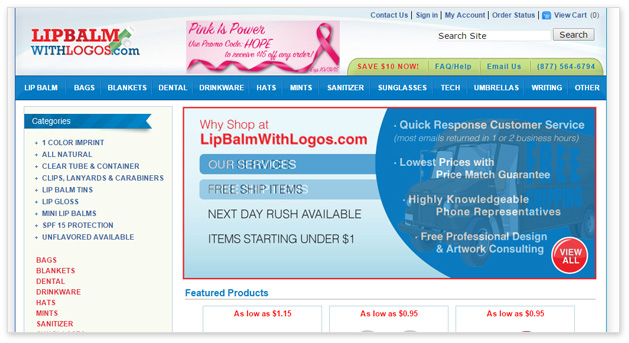 Client Website: - http://www.lipbalmwithlogos.com/
Company
LipBalmWithLogos.com understands the value of your brand. That's why it is determined obsessed over to make sure that their clients are 100% satisfied while ordering their products for the next tradeshow or corporate event. Its highly knowledgeable, American based representatives are always happy to help, by answering any questions or assisting in selecting the perfect product from their extensive selection. The team boasts of excellent customer support by means of Quick Response Services that guarantee a response without one to two business hours.
Approach
LipBalmWithLogos.com is a completely new website developed by the client. The client wanted to increase the sales and traffics on their new website via SEO promotion. The main challenge was to promote a newly designed website for small products in B2B market.
Solution
As per the conversation with the client, our support executive studied the keywords and recommended to go with the content based customize link building solution.
We suggested the client for the search engine optimization campaign which included web development to improve site architecture, code optimization, URL rewrite, aggressive link popularity campaign, social media optimization and content generation. The campaign was executed as follows:
On page optimizationptimized all the website on page with Meta tag, heading tag and bold texts followed byand sending the audit report to the client.
Set and add the content in the inner pages.
Suggest changes on the website for engagement.
After the completion of the basic on page process, we started the link building campaign for the website. In that we mostly worked on the content based services like General Blog, web 2.0 creation, High Quality Articles, etc. and at the same time similarly we focused on submission based service to improve the traffic of the website. We also promoted the business on classified sites.
Achievement
The website has received a good ranking for highly competitive keywords in Google.com. The campaign has also iImproved the website traffic and sales too.
As per the track record, the client, goet featured in the top 10 results in the SEO within work of 7 months.
| | | |
| --- | --- | --- |
| Keyword | 16th April, 14 | 6th May, 14 |
| Personalized Lip Balm | Not in top 100 | 19 |
| Custom Chapstick | Not in top 100 | 3 |
| Personalized Chapstick | Not in top 100 | 11 |
| Promotional Lip Balm | Not in top 100 | 12 |
| Promotional Chapstick | Not in top 100 | 3 |