Case Study for Callandput
Home » Case Studies » Case Study For Callandput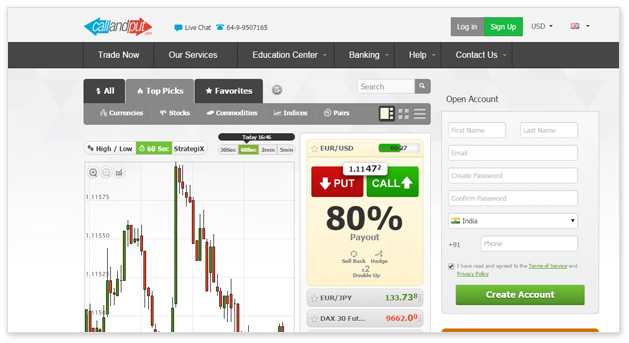 Client Website: - case-studies/case-study-for-callandput.html
Company
CallandPut is an industry leader in the field of online binary options trading. Its approach is to be customer focused, pure, and simple. The company aims to meet the demands of traders while ensuring a fair, transparent, and accessible trading environment. Its vision is to provide excellent services to the global traders in terms of ongoing monitoring and customer support. In addition to this, these trading experts aim to deliver quality and timely market tools that help traders to win in the markets: eBooks to download, training courses, video tutorials, daily market analysis, a webinar series and more.
Approach
The main aim of CallandPut was to meet online traders from the promotional campaign. The biggest challenge for us that is team Submitedge was to promote the competitive keywords in the global market and provide good ranking to the cited keywords.
Solution
As per the conversation with the client, our support executive studied the keywords and recommended to go with the content based monthly link building solution.
We suggested the client to opt for search engine optimization campaign which includes web development to improve site architecture, code optimization, URL rewrite, aggressive link popularity campaign, social media optimization, and content generation.
This also included - on page website optimization with Meta tag, heading tag, and bold texts and sending the audit report to the client.
After the completion of basic on page process, we started the link building campaign for the website. In that we worked on the content based services like General Blog, web 2.0 creation, high quality articles, etc. and also focused on submission based service to improve the traffic of the website. We also promoted the business on classified sites.
Achievement
The website has received excellent ranking for high competitive keywords in Google. The campaign majorly improved the website traffic and sales as well.
As per the track record, the client got into the top 10 in SEO results within 6 months.
| | | |
| --- | --- | --- |
| Keyword | 16th April, 14 | 6th May, 14 |
| Binary Options | 29 | 3 |
| Binary Options Trading Platform | 78 | 7 |
| Binary Options Trading | 49 | 7 |
| Options Trading Signals | Not in top 100 | 7 |
| Options Trading Platform | Not in top 100 | 8 |
| Binary Options Trading Signals | 18 | 8 |
| Binary Options Bonus | 27 | 8 |
| Binary Options Strategy | 16 | 13 |
| Trading Binary | 39 | 13 |
| Binary Options | 23 | 13 |
| Trading Binary Optionsp | 22 | 16 |
| Trading Binary Options Strategy | 34 | 18 |
| Trading Signals | Not in top 100 | 21 |