Case Study for takemyscrapcar
Home » Case Studies » Case Study For Takemyscrapcar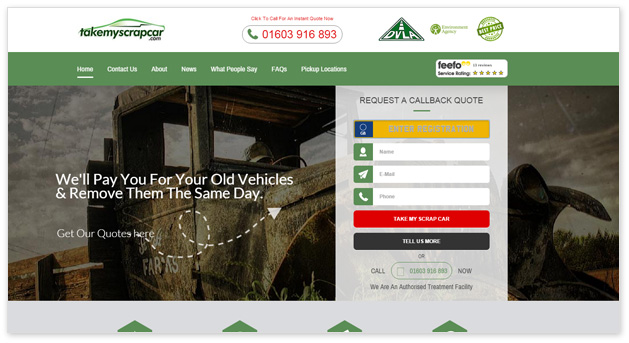 Client Website: - http://www.takemyscrapcar.com/
Company
TakeMyScrapCar is a Norwich based vehicle recycling company, collecting scrap or unwanted cars from the whole of Norfolk and Suffolk since 1989. With a long track record of fast, efficient services and a trail of happy customers, it has built a reputation it is proud of.
It is fully licensed by the DVLA and South Norfolk District Council to deal with both unwanted and end-of-life vehicles and we adheres to strict regulations. This means one can be rest assured that the whole process is fast, efficient and legal. The company is capable of removing all types of vehicles - cars, vans, buses, lorries etc.
This company has ATF status (Authorized Treatment Facility). This is regulated by the Environment Agency. ThisWe is one of the first companies in Norwich, Norfolk to be granted this license.
Approach
The client needed a local traffic in the UK and cities like Norwich, Norfolk etc, with the need to improve brand visibility among the local customers. Also, the client needed the top rankings for all highlighted keywords.
Solution
We began by performing a thorough local listing in Google of the client's website, after this process we have completed finished the complete website on page optimization process. Following this, we aAdded the 500 words content on each page.
After the completing thee on page process we began with have started the link building campaign for the website. In this that we have majorly workeds on the content based services with respect to local directories, yellow pages directories submission, classified submission etc. and at the same similar time we focuseded on submission based service to improve the traffic of the website.
Achievement
The concerned website have achieved good ranking for highly competetive keywords in Google. The campaign has also improved the website traffic and sales.
As per the track record, the client got into the top 10 rsults in the SEO and the result ranking work of within 6 months.
| | | |
| --- | --- | --- |
| Keyword | Jan 2014 | Aug 2014 |
| best salvage service in east anglia | Not in top 100 | 1 |
| Scrap Car Aylsham | Not in top 100 | 1 |
| Scrap Car Cromer | 25 | 2 |
| Scrap car services in watton | 34 | 2 |
| Scrap Car Sheringham | 75 | 2 |
| Scrap Car Watton | Not in top 100 | 2 |
| Car Removal Norwich | Not in top 100 | 3 |
| Car scrappage services in fakenham | 37 | 3 |
| Scrap Car Fakenham | 41 | 3 |
| scrapping a car in bungay | 59 | 3 |
| Vehicle Removal Norwich | 34 | 3 |
| car scrappers in suffolk | 34 | 4 |
| Scrap Car Beccles | Not in top 100 | 4 |
| Scrap Car Norwich | 21 | 4 |
| Scrap Car Wymondham | 59 | 4 |
| scrap cars norwichuk | 68 | 4 |
| Scrap Car Bungay | 21 | 5 |
| scrapping a car in dereham | 75 | 5 |
| vehicle recycling company norwich | 59 | 5 |
| vehicle salvage in north norfolk | 45 | 5 |
| lowestoft car scraping service | 39 | 6 |
| car scrappers in norfolk | 59 | 7 |
| auto salvage service norwich | 94 | 8 |
| vehicle salvage fakenham | 67 | 8 |
| Scrap Car Dereham | 79 | 9 |
| scrap car service in norfolk | 48 | 12 |