Case Study for newcitymoving
Home » Case Studies » Case Study For Newcitymoving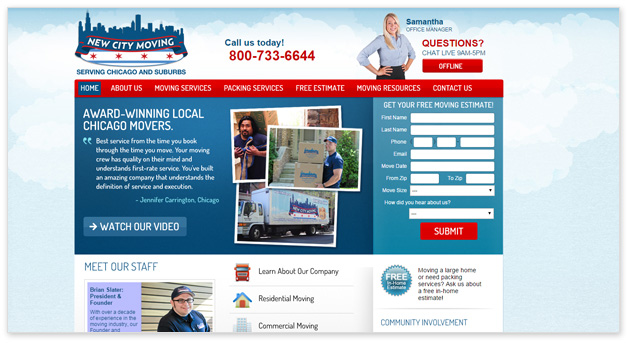 Client Website: - http://www.newcitymoving.com/
Company
Since they started in 2009, there has been one thing at the heart of New City Moving's operation. Having worked in the moving industry for years, owner Brian Slater was often dismayed at the lack of care and attention provided to customers during their most stressful moments. Trusting clients were met with damaged furniture, bills far over estimate, and uncompassionate representatives time and time again, and with no recourse when their expectations were so blatantly dashed. 20 trucks and over 50 professional and experienced movers later, and New City Moving is still driving its business forward every day!
Approach
New City Moving is a local Chicago Moving Company that prioritizes customer service and local Illinois moves. Since its inception, it has focused on easing the stress of moving by providing top-notch service, personal moving consultants, highly trained movers, peace of mind, and affordable rates. It is one of the best Chicago Movers at the most affordable rates. By means of SEO campaigning, they needed online enquiries from local as well as global clients.
Solution
We began by performing a thorough audit of the client's website, considering for areas that could be upgraded upon and for new enquiries where they could stand out from their competitors. To take advantage of these long-tail keywords, which typically converted them at a better rate, an aggressive SEO campaign was needed to optimize their individual show pages.
After the compleication of the on- page process, we started the link building campaign for the website. In that we have mostly worked on the content based services like Squido creation, web 2.0 creation, link wheel etc. and at the same time in similar time we focused on submission based services to improve the traffic of the website.
Achievement
The web site has achieved good ranking for competitive keywords in Google. The campaign has also improved the website traffic and sales.
As per the track record, the client got featured in the top 10 results in SEO within 6 months.
| | | |
| --- | --- | --- |
| Keyword | Aug 2012 | Jan 2013 |
| apartment movers chicago | 12 | 1 |
| cheap movers chicago | Not in top 100 | 1 |
| chicago movers | 9 | 3 |
| chicago movers reviews | 18 | 2 |
| chicago moving and storage | Not in top 100 | 14 |
| chicago moving and storage | 50 | 2 |
| chicago moving company | 58 | 1 |
| chicago moving services | 37 | 1 |
| chicago piano movers | 80 | 12 |
| local movers chicago | 30 | 5 |
| mover in Chicago | Not in top 100 | 1 |
| movers in chicago | 67 | 1 |
| moving companies chicago | 74 | 1 |
| moving company in chicago | 35 | 1 |
| moving service chicago | 48 | 1 |
| office movers Chicago | 68 | 1 |