Case Study for Graduationmall
Home » Case Studies » Case Study For Graduationmall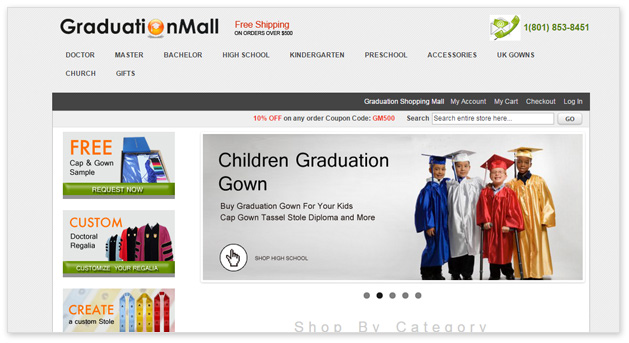 Client Website: - http://www.graduationmall.com/
Company
Building numerous backlinks was not enough for GRADUATIONMALL to gain online popularity. Their previous SEO practices clearly lacked the implementation of relevant and useful backlinks for the link building process. There was no subsequent progress in terms of website ranking and visibility. This called for the services of Submitedge whose proposal of Advanced SEO Link Building Campaign benefitted GRADUATIONMALL greatly.
Approach
The purpose of Advanced SEO Link Building Campaign is to cultivate backlinks pertaining to the client's niche. The idea is to associate the brand with content that is relevant to its products or services. Search engines are designed to algorithmically favor those services that establish backlinks containing relevant content.
In order to establish a niche with respect to online presence, GRADUATIONMALL was advised to opt for this specialized link building service that helped generate high traffic by means of highly relevant, keyword rich content. Submitedge promised discretion of all the associated websites used for building backlinks for the inner pages. The associated websites chosen for the purpose were from highly established and accessed mediums only. GRADUATIONMALL was assured of maximum security and ethical link building practices for boosting its search results.
Solution
The aim of Submitedge was to create naturally occurring backlinks that were Google compliant. Submissions were conducted for popular Web 2.0 properties platforms such as Niche Blog Reviews, Article Submission, Directory submission, press release distribution etc. Every plan included submissions for social bookmarking, be it for blogs, articles, or directory listing. GRADUATIONMALL was assured of genuine link building as Submitedge does not procure links from link farms and FFA websites for the fear of being penalized by Google and other competing search engines.
Managing the reputation of the client was equally important to Submitedge. As a result, deep linking practice and onpage optimization was suggested to GRADUATIONMALL to ensure steady conversion of leads. Niche backlinks were established with websites having positive attributes for their inner pages. Submitedge assumed the responsibility of replacing near dead or non functional backlinks without charging any fee for the service.
Achievement
SEO Link Building Campaign established GRADUATIONMALL as a standalone company in the industry it specialized in, raising it to the top ten ranking in Google within six months. The content generated for the campaign was rich with competitive keywords that featured in SERPs with par excellent results.
| | | |
| --- | --- | --- |
| Keyword | 11th July 2011 | 4th June 2012 |
| Academic regalia | 31 | 12 |
| Cap and gown | Not in top 100 | 24 |
| Cap gown | Not in top 100 | 15 |
| Caps and gowns | Not in top 100 | 8 |
| Choir gown | 29 | 4 |
| Choir robe | 20 | 5 |
| Choir robes | 21 | 10 |
| Choral robes | 27 | 5 |
| Doctoral gown | 84 | 3 |
| Doctoral regalia | 23 | 4 |
| Faculty regalia | 8 | 3 |
| Grad gowns | 37 | 2 |
| Graduation gowns | 22 | 6 |
| Graduation regalia | 49 | 3 |
| Phd regalia | Not in top 100 | 2 |