Case Study for go-optic
Home » Case Studies » Case Study For Go Optic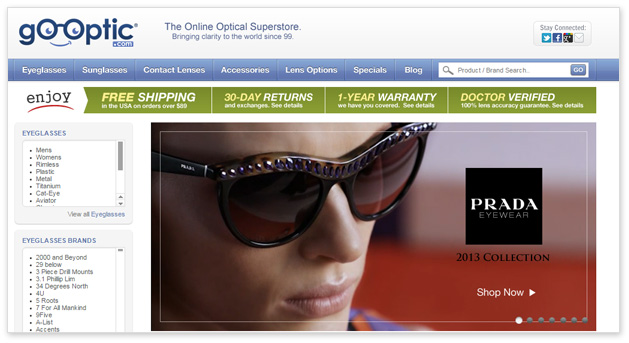 Client Website: - http://go-optic.com/
Company
Go-Optic has revolutionized the optical world by offering branded contact lenses, designer frames, lenses and sunglasses available at a fraction of the industries marked up prices.
It searches the world for the most fashionable, technically advanced products to sell online. Go-Optic.com purchases famous designer brands including the newest styles from Ray Ban, Gucci, DKNY, Elizabeth Arden, Giorgio Armani, Prada, Tommy Hilfiger, Kenneth Cole, Liz Clairborne and many others. It purchases frames, lenses and contact lenses directly from the manufacturer or its vendor(s). This enables themus to sell fine authentic products for the low prices itwe offers.
Approach
Go-optic.com is an online shopping cart website that isand they are dedicated to theiour consumer's needs, sending users the exact product their doctor gives them at the lowest price itwe could possibly offer. The Client neededs huge traffic and enquiries with the online digital marketing campaign to increases their sales of their main products online namely "Eyeglasses", "Sunglasses" and "Contact Lenses".
Solution
As the website was made as a shopping cart portal, we needed to work on it step by step. We proposed a three-stage plan to Go-optic.com.
Stage 1:- Optimize ing all the main web pages with main category pages.
Stage 2:- Add the keyword rich content ion all the inner pages.
Finally, Stage 3:- Our comprehensive link building campaign was established to increase the site's popularity in search engines. This included content based blogs, and shopping blogs, web 2.0 properties, and high PR articles and Forum Sites.
Achievement
The web site hasve achievedgotten good ranking for its high competitive keywords in Google. The campaign has iImproved the website traffic and sales as required too.
As per the track record, the client got featured in the top 10 results in SEO within 6 months.
| | | |
| --- | --- | --- |
| Keyword | Sept. 2010 | Feb. 2011 |
| designer eyewear | Not in top 100 | 1 |
| designer glasses | 39 | 4 |
| discount eyewear | 50 | 1 |
| discount glasses | 21 | 3 |
| glasses frames | 42 | 13 |
| prescription eyewear | 52 | 7 |
| prescription glasses | Not in top 100 | 5 |
| prescription lenses | 48 | 12 |