Case Study for Email Form Logics
Home » Case Studies » Case Study For Email Form Logics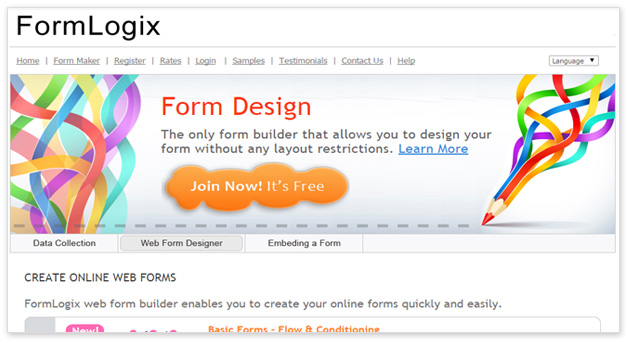 Client Website: - http://www.emailformlogix.com/
Company
FormLogix offers the use of its form widgets free of charge. In addition, when a user registers at FormLogix, he / she is granted a 7-day free trial version in which almost all features are active. The FormLogix platform can simplify the user's work and reduce costs. The tool is designed especially for those who have no programming skills whatsoever - all one needs to do is Drag & Drop. If the user needs a web database, form builder, web forms, email forms, html forms, polls or just a simple web form, this is the place to go.
Approach
The Mission is to respond to the growing needs and demands for high quality digital web forms and to the time consuming and costly process of creating them. The business client strives to do so with the form creator tool, which is designed to be flexible and user friendly as well as innovative.
Formlogix believes in providing its clients not only with the best tools but also the best service.
It aspires to become a globally recognized provider of web database and form processing tools.
Solution
This company has a huge scope in the future. We did complete website on page optimization in the first month and suggested the client to make custom pages for the keyword email form builder. We also added 500 words content on each page of the website.
After the completion of the on page process, we started the link building campaign for the website wherein we first published blog reviews, niche blogs reviews, Squido creation, web 2.0 creation, link wheel. We simultaneously focused on submission based services to improve the traffic of the website. Additionally, we published press releases and promoted the website in High PR social networking websites.
Achievement
The client got top results from this campaign. They achieved 100% success ratio in conversion due to top ranking keywords "Email Form", "Email Form Builder", "Form to Email" in this campaign.
As per the track record, the client featured in the top 10 results in SEO within 3 months.
As per the track client, get the top 10 results in the SEO work of 3 months.
KEYWORD RANKING REPORT :-
| | | |
| --- | --- | --- |
| Keyword | Jan, 2013 | June, 2013 |
| Email form | Not in top 100 | 7 |
| Email form builder | Not in top 100 | 5 |
| Email forms | Not in top 100 | 9 |
| Form to email | Not in top 100 | 10 |
| Mail form | Not in top 100 | 9 |