It is essential to maintain rankings for your website on a regular basis. An unexpected drop could make or break a business. A ranking- whether high or low, is not permanent. Even though some pages on a website may rank high, it is advisable to continue building and adapting your optimization techniques. A single reason is enough to move your website down the search engine results page (SERP). Some reasons include changing the appearance of the entire website, updates in Google algorithms and better techniques employed by your competitors.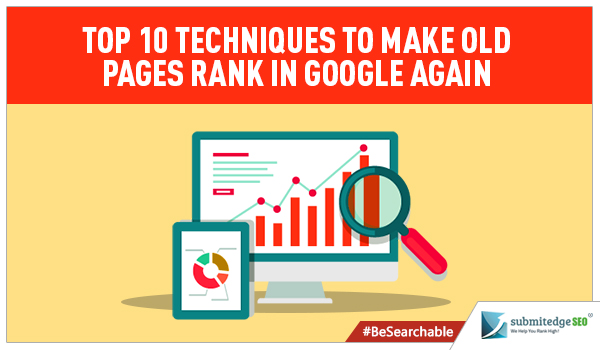 Employ techniques to help Google recognize old pages again. If ignored completely, it can lead to an unwanted drop in rankings. Google takes into account many factors to rank a website. Prioritize the important ones and build techniques around them. To avoid losing page rank, you can employ the following techniques:
1. Increase visibility: Make it highly visible by providing a link for the old page on the home screen. The link makes it easier for users to be aware of the existence of the web page and interested users are more likely to click on it.
2. Add internal links: Firstly, find pages on the website that receive high traffic and rank well. Next, direct those pages to the ones you would like to receive higher ranks for. Internal links improve the site architecture and the old pages receive valuable traffic.
3. Add supporting content: Create fresh content regularly to give a boost to rankings. Add relevant material to support old pages. Referencing old pages to add new ones ensures that the new pages are integrated smoothly.
4. Remove broken links: Delete any links that will cause a "Page Not Found" error. Tap the unused potential of users that flock to the nonexistent page. Redirect it to the page you would like to receive more traffic for.
5. Review current content: Make changes to the content that is already displayed on the website to make sure the information is relevant in the current scenario. Change keywords that no longer draw high traffic.
6. Related keywords: Make sure there is a presence of similar keywords on most pages of the website. Be consistent in placement of different keywords. It will rank higher for queries generated for that keyword.
7. Create back links: Add interesting content to the old pages to increase their potential for creating back links. The more website and users link back to your website, the more visibility you will receive. Follow pattern of high ranking pages on your site.
8. Update web pages: Regularly updated pages feature higher on the SERP than content that was never changed. Update content on the page you would like to receive high rankings for.
9. Change sitemap: Do not forget to change the sitemap according to the new content generated. It will help Google crawl better and improve ranking.
10. Market it: To optimize the changes made, it is necessary to promote it on social as well as professional networking sites. Direct traffic received by active social forums to your page in order to gain popularity.
It is important for the changes to be invisible to the readers but visible to Google. It will help improve user experience and provide a smoother browsing experience. Employ strategies that make Google aware of the exact changes in order to crawl better and rank higher.