Do you know that Google frequently takes manual action against web spam? Not many people are aware that Google uses manual web spam control methods too. While it is true that most of the action against web spam is based on automated algorithmic processes, there are many instances that Google has taken manual action on websites. This is not just a mere assumption but Google has stated this clearly in its official blog recently.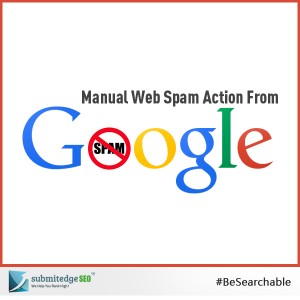 If your website or any of your web pages should violate Google's quality guidelines then this calls for action by Google's web spam team. To help webmasters see whether their website has been affected by manual web spam team then Google has launched a new tool recently.
To use this tool you should first have a Google account and when you log in to your Google account visit the webmaster tools section. Under the webmaster tools section you will find a link called, 'Manual Actions' within 'Search Traffic'. In normal circumstance that is when you do not have any web spam action taken against your website manually then you will see the message, 'No manual web spam actions found' Google indicates that less than 2% of the domains have succumbed to such actions. It is therefore very likely that your website does not suffer any such issue.
What kinds of actions are taken by the manual web spam team? The manual web spam team can remove your domain totally from the search results or it can demote your website from the current rankings. The seriousness of the action taken will vary from website to website based on the violation. When Google's manual web spam team should take any action against your website then you will receive a notification from Google directly about the action taken. Further to this Google has also launched a new tool that you can use to check the status. You will also be able to request for a review under the Manual Actions section. In case, if your site has suffered manual action the violation will be listed here. Added to that, the tool will also indicate whether it is a site wide violation or a partial violation.
When you see such notification under your webmaster account, you are required to take necessary action in rectifying the issue so that your website can be considered again for the listing or for the restoration of your ranking. The reconsideration process should be started only when you have taken adequate measures to rectify the problem. Do not impulsively hit the review request button before you have checked the reasons for your problem. It is best to regularly check your website's status so that you can take immediate action when something should go wrong. Many a times, you will be able to revert to its original status by making minor corrections or by making minor changes. If you do not check the status of the website regularly, you may fail to understand the reason why your efforts are not getting you the desired results.