If you are a website owner or if you are a webmaster, it is not enough that you spend a lot of money on optimizing your website and on making social bookmarks. What is even more important is to keep yourself abreast with the latest challenges and the latest SEO trends so that the efforts that you are taking are in line with the ground reality. The world of SEO is constantly changing and the search engines are constantly making changes to their algorithm and to their ranking strategies. Some of these changes are made public while others are not published but the experts learn the various signals and post articles online. You need to keep track of all these trends and all these changes because your approach to SEO and your efforts on ranking will have to be altered to the changing scenarios.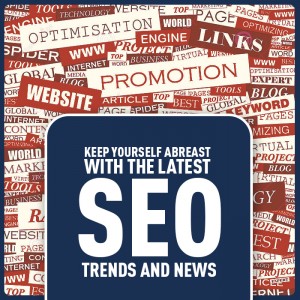 Even if you are using an SEO service provider or a social media marketing manager to handle your search engine marketing needs, you need to ensure that you know what is expected of you so that you can communicate to your service provider your requirements clearly. If you do not have adequate knowledge or if you do not show interest in updating your knowledge you will be left to the vices of your service provider who may at times take advantage of your lack of knowledge.
If you are wondering how to get all the latest news about SEO and SEO trends, then you need not have to worry. You will have easy access to such information online easily. There are varieties of blogs that post updates about Google updates including our blog here where you can follow the posts regularly and keep yourself up to date. You can also monitor news articles pertaining to certain keywords by subscribing to Google news, when ever news items pertaining to SEO or SEM are published Google will send you an alert too the registered email id.
Google offers plenty of resources online where it publishes its official updates. For example, you can visit Google's official blogs or YouTube channel of Google. These are some of the ways of how you can keep yourself up to date with the latest Google news and Google updates. Many a times, webmasters think that it is a waste of time to keep track of such news because it does not bring them money directly. If that is what you are thinking then you are absolutely wrong, because you will lose money only if you do not pay attention to these updates because the efforts that you are taking will not be in line with what is expected of you by the search engines. It does not matter even if you are outsourcing your SEO requirements, you should be a well informed customer and for that, you need to keep yourself up to date with the latest SEO and the latest Google news.