The level of competition is very high in almost every industry making it a big challenge for small businesses to enter the market. To even survive as a small business is difficult, forget surpassing these established companies. Start-up companies find it very tough to invest high amounts of money on their promotional activities. The advantage you have as a local firm is that you can concentrate on the local audience and try to gain a strong hold over them. The most effective and affordable way to do this is by adhering to Local SEO Services. You can frame strategies to first excel in your geographical area as it helps to draw a more targeted audience. It helps a company rank higher when customers search for a product in that specific area.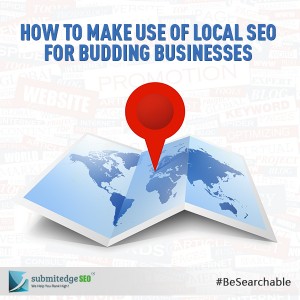 Local SEO works wonders for budding businesses like restaurants, retail shops, lawyers, banks and more. It is perfect for companies who are based in one specific geographical location.
There are various steps you could follow to make optimal use of local SEO for your business –
1. Get listed on local directories as this will divert local traffic to your website.
2. Register your domain name with your address as this will give better authenticity that search engines look for.
3. Keyword optimization is a very important aspect that every business should consider. It is necessary to use them properly. Do not optimize your website for too many keywords. Figure out the most essential ones pertaining to your business so that a search for that specific phrase will divert users to your website.
4. Most people search for products or services while they are on the go. As a local firm, make your website compatible to work on various browsers and devices. This makes your website accessible to a user at anytime from anywhere improving the chances of sales conversions.
5. Integrating your marketing efforts with social media is essential to get a quicker reach to a major portion of your target group. You can also be in continuous interaction with them.
6. Always keep up the standard of content in your website. Provide engaging, high quality, relevant content as this is how search engines are going to recognize your website as appropriate for a particular search. Keep updating the content on a regular basis.
7. On relevant pages, include the name of the place where your firm is situated.
8. It is important to properly indicate the category your business belongs to. This is the first criteria search engines look at to see if your firm is relevant to keywords searched for.
9. Add complete details including the name, address and phone number of your company as this will directly draw people to your store.
10. Get customers to review your business once they have used your service. This will help to attract other viewers as that is the first thing they read before looking for information about a product.
Local SEO is something that can be completely utilized by businesses to gain high visibility in the specific geographical location. You can make use of Free Local SEO Tools that support your SEO plans and also record your growth for future improvisations.