The aim of every website is to surpass competition and make it to the top of search engine results for relevant searches. Earlier, many websites, to increase their visitor traffic, made use of unethical strategies which came to be termed as black-hat SEO techniques. This resulted in numerous websites without great quality content ranking higher due to optimization or even over-optimization. To control this situation, in the last few years, Google has rolled out a few updates tweaking search engine algorithms. All these are aimed at bringing about a positive shift in the way websites rank by getting relevant best quality content pages on top. One of the significant updates has been the Penguin versions which did have an impact on the traffic of various sites. It was aimed at removing out sites with low-quality backlinks and over-optimized anchor text.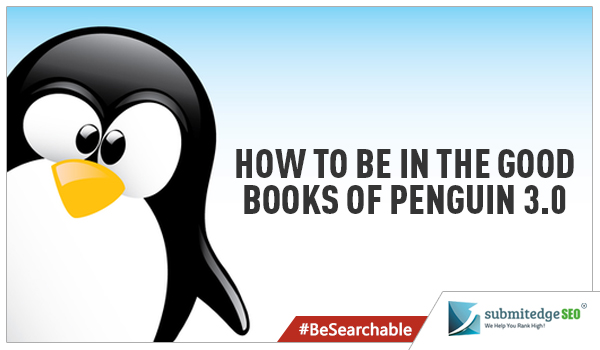 Every update launched by Google is aimed at providing relevant search results to users and overcome spam. Penguin updates attacked numerous aspects of the then widely used website optimization techniques which were taken undue advantage of.
The regular updates by Google forces business owners to tweak their SEO efforts according to the demands of changing algorithms. Last week Penguin's latest version 3.0 was announced. To avoid penalization from Penguin algorithms, there are some aspects you could get your focus on–
• Optimized anchors – Keyword-rich anchor texts are no more considered acceptable to search engines. To play it safe with the Penguin updates, it is best to avoid optimization of anchors.
• Low-quality backlinks – The recent preference of search engines is pushing up sites with quality linking over quantity. Any backlink from a bad site is surely going to term your website as suspicious, directly dropping down its position. You need to immediately start working on developing links from sites with the same or higher domain authority level.
• Guest-blogging network – The best way to be in the good books of the update is to avoid any link from guest blogging networks.
The ideal way to be in terms with Penguin updates is constantly audit your content and link profile. You can do this with the help of a tool which shows if there is a traffic drop indicating the effect of the update. There are a few aspects that your audit should focus on –
• It is best to get all links from guest blogging networks removed immediately.
• Be very strict about breaking your linkage with all spam sites. The audit will give you an idea of numerous low-quality and irrelevant sites you are linked to. It is beneficial to get them removed to avoid any future penalty. You can always build new quality backlinks later on.
• Get rid of all exact match anchor links.
• Eliminate all optimized anchor links especially the ones that are over-optimized to build a strong link profile.
• If you have built links with the help of guest posts, try to convince those sites to nofollow the links back to your site.
In the race between growing businesses, to be successful, you need to obediently and strictly abide by all the preferences of Google algorithms. Even if you feel the update will not cause any difference to your site, it is better to get the alterations done for future safety. This is the only way to sustain your position and keep growing in terms of your website ranking.