Google Hummingbird focuses on every word in the query and not just the keyword. So keyword based writing has taken a backseat after hummingbird algorithm was introduced. Google wants its search results to be accurate and quick and so it keeps bringing about changes in its algorithm to make it more convenient for clients. Where earlier the focus was on keywords, now the whole sentence is taken into account.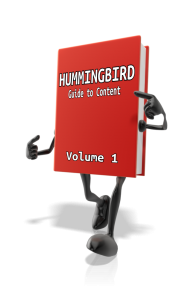 Google Hummingbird has come as a boon for content writers as now they no longer have to stuff sentences with inappropriate keywords. They have the liberty of coming up with proper sensible sentences unlike the earlier nonsensical sentences to just fit in the keywords. Suppose you were in Phoenix and wanted to know where to find the nearest Mc Donalds outlet. Previously you would key in Phoenix Mc Donalds and then there would be a whole list that would come up, most of which would be irrelevant for you. But now, you can speak out your query- Where can I find the nearest Mc Donalds? and the result page will give you the exact outlet after tracking down your current location. Doesn't that solve a lot of your hassles in sorting through the results page to find the information you wanted?
What could you do to come up with content that is Google Hummingbird friendly?
The first thing you should remember is that your content is not going to be changed constantly so you should include information which will be relevant even few years down the line. People will search for such content and that will give you more hits and higher ranking. If the information is outdated then people will go back and your site's bounce rate will increase making your ranking go lower.
The content that you include should be laden with information and people should learn something new from it. Only that will make them visit your site again. The content has to be sharp and lively so as to attract the readers. The easy way is to include some 'how to…' kind of articles as this will definitely educate the reader and make them come back to read more.
Another way of including relevant information on the site is through in-depth articles. Google is giving a lot of importance to in-depth articles. So, well-researched and excellent content with in-depth information will definitely score over shallow or general articles. You should try and include your industry based in-depth articles on your site.
Social media has taken wings and you cannot afford to neglect this aspect in your internet marketing. Write snippets or tips and share them widely on social media sites and this will encourage the readers to visit the source of those informative pieces.
There is high scope of including high tailed keywords in the FAQ section of your site. The answers to these questions will be informative and a chance for you to share relevant niche related information with your readers.
Stay updated with the algorithmic changes that Google introduces to stay at par with your SEO strategies. The excellent and high quality content that you create will definitely boost your website on the search engine ranking.