The dominance of Google as a search engine giant is a well known and well documented tale of success. The search engine which is most effective and popular with masses so far had only search engine interface for Mobile phones and Computers. However, with the emergence of tablets in the market and considering the number of people whose primary access to Internet is only through a tablet, this is something that had been in the pipeline for long.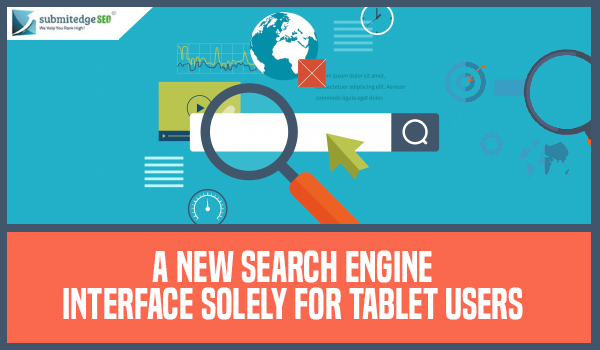 If you accessed your tablet anytime today you would have noticed a significant change in the entire layout of the search engine interface. That is because Google has finally launched an interface dedicated solely for tablet users.
The previous interface which was basically an amalgamation of cell phone and desktop interface had put on a decent show for users. However, the brand new interface has certain features that are sure to impress a majority of tablet users.
The primary aim of a search engine is to provide appropriate information searched for in the fastest of time. Although, Google has been successful in this regard but modifications can always be done to improve the entire experience.
To provide an efficient medium for its users, some of the features of newly developed search engine interface are:
Simple layout of search engine result pages
Much simplified layout of search engine result pages
The size of the search engine result page has been increased with addition of necessary content such as text, buttons and several other touch points
The new interface is comparatively easier to browse through than the previous one.
Precise Search engine results
Now, you can filter the results on a tablet by clicking on the search button below the search box which gives you an option to filter your results according to audio, video, places, shopping and much more.
All you have to do is click on the search menu below the search box and choose the apt category you want your result to be in.
Better image viewing experience
Image viewing also has been addressed proficiently.
With enlarged image preview users can effectively choose the most appropriate image without waiting for it to be fully loaded which in case of a slower internet connection eats up a lot of time.
Also, with faster loading of thumbnails and continuous scrolling down without any buffering is certainly a tempting update.
Supports several languages
The new search engine interface supports 36 languages.
Enhanced Flight Search
The new enhanced flight search interface allows users to explore places on the map without any trouble. You can also filter your results according to:
Cheapest dates for travelling
Number of stops
Airline
Duration
Connecting airports
Also, a user can easily look for the updated price on the go for every desired destination.
Different search engine result page
All the search engine result pages are displayed in a card like fashion with lot of white space on the left and right, of the search engine result page.
Plus, the top navigation bar also looks much thinner compared to the previous one.
Compatibility with different operating systems
Irrespective of if you own an Ipad or an Android supported tablet you can avail all the required features compatible with your tablet without any disruption or errors.
These are some of the major changes that can be observed in the new interface.
In addition to all the above mentioned updates, all the information searched for local results on search engine captures the entire screen space on the tablet.
One glitch, if it can be termed so, that many users are reporting is that they are still getting the mobile website icon beside the search engine results which implies that not all the websites have been optimized accordingly.
Google is yet to reply or comment on this issue but surely the best possible action would be taken in this regard.
Hopefully, with this new development the tablet users will be able to explore the Internet effectively without any glitches or disruptions.
This is a significantly new step in the right direction which in all possibilities will require many modifications before it is fully accepted by the audience. However, with such sorted interface it will be safe to say that Google has finally provided users with what they had been craving.